All across the country, people are California dreaming, but you get to live here. Cool Pacific Ocean breezes, big waves, sunshine without sticky humidity, movie stars, the Redwood Forests….it must be tough to live in a place where you have so many incredible choices of things to see and do. So, when you're off work, I'm sure you're excited to spend your time doing laundry, right?
We didn't think so. That's why HappyNest pickup and drop off laundry service wants to take some of the burden of doing laundry off your hands.
Why choose HappyNest in California?
We are ecofriendly: We offer name-brand detergents as well as natural and perfume-free options. We can even use white vinegar as a fabric softener if that's your preference.
We are convenient: On laundry day, just leave your laundry outside your door. We will come pick it up and return it to you washed and folded the next day.
We are flexible: Do you want your laundry picked up on the same day every week? No problem. Maybe you are not a regular-schedule type of person and you rather just have your laundry picked up by request. That's fine too. Just let us know your preference.
We are affordable: While our rates may vary slightly from town to town, we strive to keep costs low. Often, our service is not much more than doing laundry on your own. Call us at 855-335-9274 to find our rates near you.
Life's a wave, catch it
The waves are good out there today. They always are because this is California. With HappyNest wash-and-fold laundry service cleaning your clothes, you can catch those waves without worrying about the piles of dirty clothes you will come back to when you get home. Remember, A bad day surfing is still better than a good day doing laundry. Maybe your idea of catching a wave doesn't literally involve jumping on a surfboard. You might want to put the kids in the car and take a drive along the Pacific Coast Highway and watch the waves crashing against rocks from above. Maybe you prefer to watch the waves from Santa Monica Pier. The point is you live a state known for its natural beauty, so you owe it to yourself to get outside and enjoy it. This is California, and being outside is a way of life. So, go out, have fun, and don't worry about your laundry. HappyNest laundry service has it covered.
California living
Californians, you are famous for your laid-back attitudes. So, wouldn't it be nice to live a laundry-free life? We all spend enough time dealing with traffic, red tape, and other hassles. Unless doing laundry is an activity you truly enjoy, let it go. Relax with friends or family. Maybe open up a fine California wine? And by the way, whatever type of wine you open is fine by us. From Merlot ton Zinfandel, HappyNest drop off laundry service cleans all kinds of stains.
At HappyNest residential laundry service, we not only want to do a good job cleaning your clothes, but we want our service to be as easy for you to use as possible. That means you don't have to jump in the car and sit in traffic or look for a shortcut to get to us, because we will come to you. Just leave your laundry outside your door. We will pick it up and return it right back to your door cleaned and folded the next day. Best of all, there is no extra charge for that door-to-door delivery. We strive to offer affordable and personalized laundry service, so that your laundry is cleaned just the way you like it at a price that fits your budget. Don't let piles of laundry ruin a great California day. Give HappyNest laundry service a call at 855-335-9274, or signup online, and find out how we can serve you.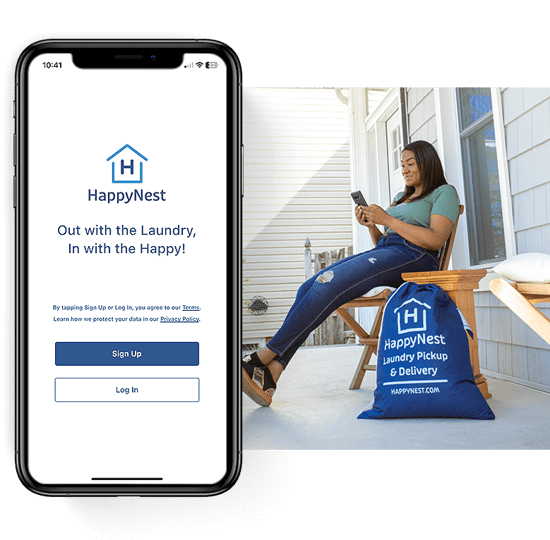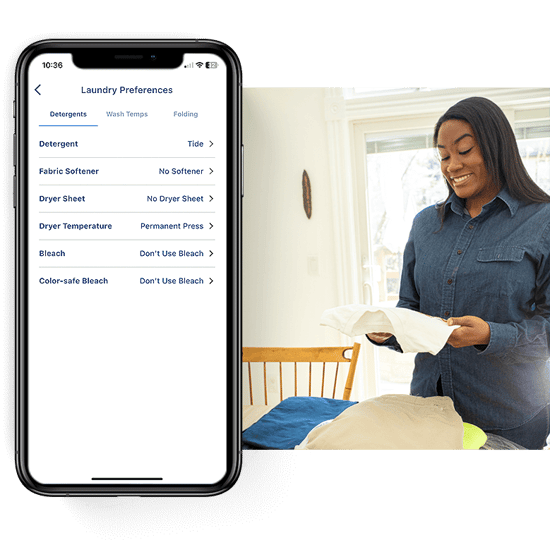 Customize Your Preferences
Choose your pickup day, select your detergent, folding preferences, and more. You can change your settings anytime!
Customize Your Preferences
Choose your pickup day, select your detergent, folding preferences, and more. You can change your settings anytime!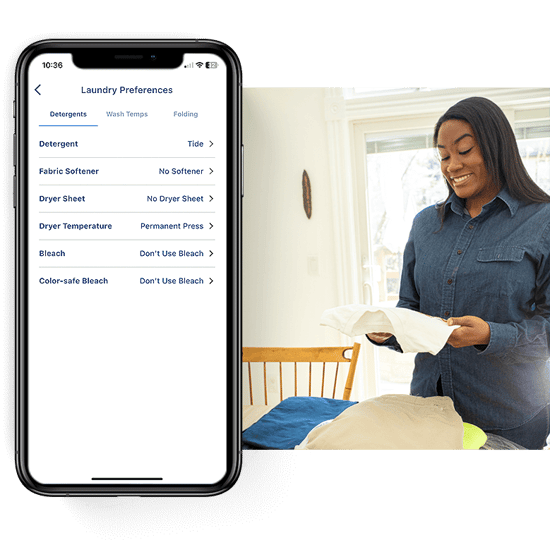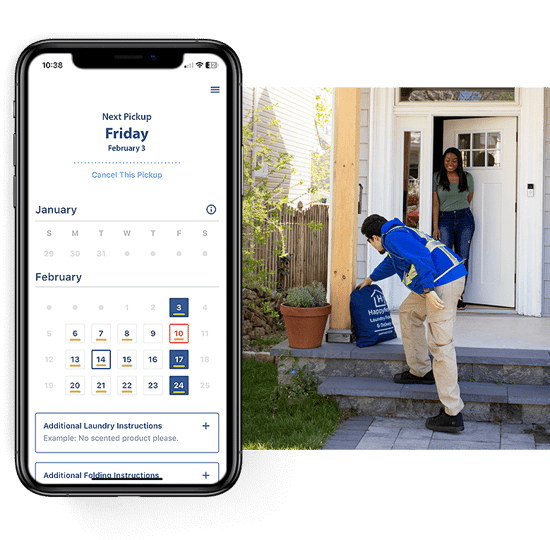 Leave Out For Pickup
We'll remind you the day before to have your laundry ready for pickup. And for good measure, we'll let you know when our driver is on the way. Your perfectly washed, fluffed, and folded clothes will be returned the next day.
Cities and Towns We Service in California
HappyNest services all of the cities and towns listed below. If you don't see your area in the list, enter your information and join our waitlist. We will notify you when service opens up in your area!