As the largest state in the mainland United States, it's no wonder that Texas is packed to the brim with exciting activities and excursions just waiting for you to discover them. From Houston's Museum District to the gorgeous vistas of Davis Mountains State Park, there are seemingly endless opportunities for you to explore the incredible state that you call home.
Unfortunately, it can be a struggle to find the time and the energy to see and do everything on your list, what with work and family and the chores that seem to pile up no matter how many you cross off of your list.
Thankfully, that's where HappyNest's commercial laundry service comes in to save the day. While you're out taking in the sun and surf at Padre Island or exploring one of Texas's historical missions, we'll handle your clothes, so that you never have to worry about laundry again.
Don't Let Laundry Keep You From Adventure
It can be easy to get sucked into a never-ending laundry routine if you aren't careful. Wash, fold, repeat, wash, fold, repeat – sometimes, it seems like it just won't end! If you've ever felt like you'll never get a moment to yourself away from the laundry room, then HappyNest's pickup and drop-off laundry service is for you. With HappyNest, you can cross laundry off of your To-Do list forever, and get back to enjoying life in Texas and the things that bring you joy.
Why Choose HappyNest?
HappyNest works with you to make sure that every load of laundry is the best that it can possibly be. We have an extensive list of laundry detergents, fabric softeners, and dryer sheets (including allergen-free options, of course) so that we can treat your clothes just as well as you would.
HappyNest never mixes laundry loads, so you'll never have to worry about your clothes getting mixed up with someone else's. We make sure that all of your laundry comes back to you every time!
Finally, signing up for HappyNest's next-day laundry service means that you'll never have to go too long without your favorite outfits. We'll have your clothes back to you, washed, folded, and ready for more Texas adventures, the very next day.
A Laundry Delivery Service at an Affordable Price
Here at HappyNest, we believe that you shouldn't have to break the bank in order to afford our commercial laundry service. That's why HappyNest costs only around $2 per pound of laundry, so that you can take advantage of our awesome service and still have plenty of spending money left over for your Texas explorations. Why not enjoy some barbeque at the Salt Lick, an evening in the Austin nightlife, or some other Texas treat with the money you'll save with HappyNest's laundry service?
How to Get Started with HappyNest:
To set up your account, just head to our website! It just takes a few minutes to get everything squared away and start using HappyNest's laundry service! If you'd prefer, you can also send us an email at hello@happynest.com or give us a ring at (855) 335-9274.
Next, tell us how you'd like us to wash your clothes. From dryer settings to detergent brands, we'll do our best to give your laundry the best treatment possible.
Finally, leave your laundry out on the right day, and let HappyNest take care of the rest! The next day, when you get back from your Texas adventures, your clothes will be ready and waiting for you.
Texas, Give HappyNest a Try Today!
At the end of the day, nobody wants to spend more time doing laundry than absolutely necessary. You've got so much more important things going on, so let HappyNest's wash and fold laundry service take the laundry off of your plate. Do life, not laundry, with HappyNest – you'll be glad that you did!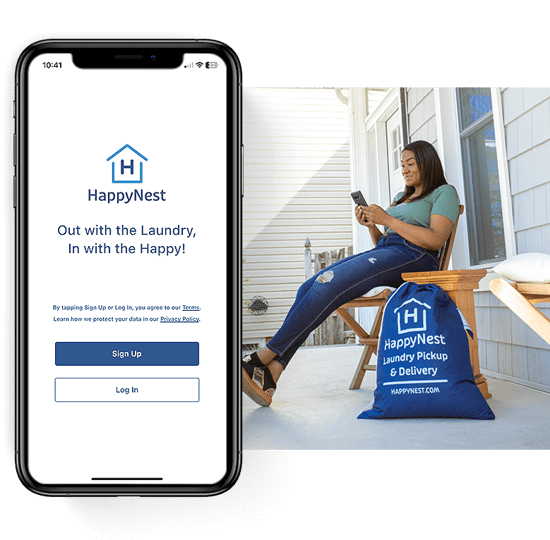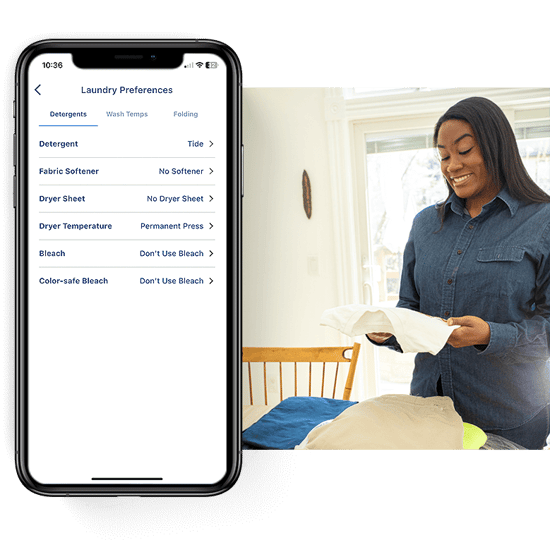 Customize Your Preferences
Choose your pickup day, select your detergent, folding preferences, and more. You can change your settings anytime!
Customize Your Preferences
Choose your pickup day, select your detergent, folding preferences, and more. You can change your settings anytime!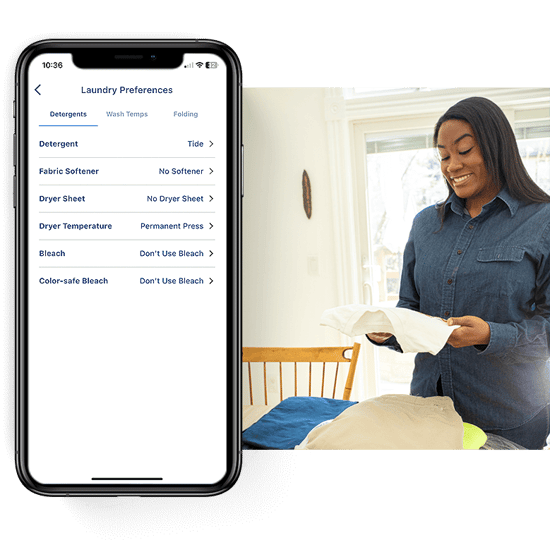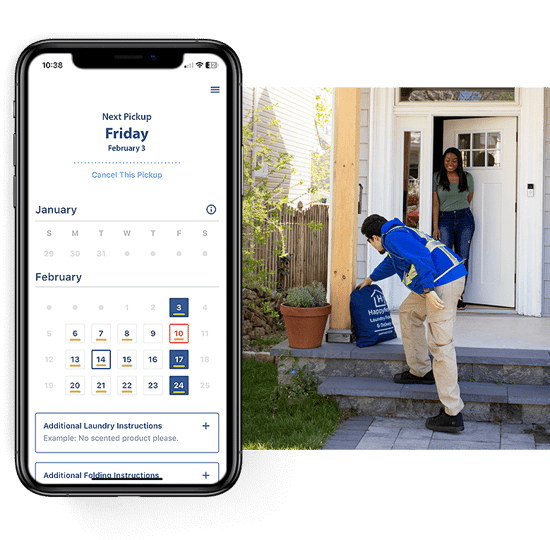 Leave Out For Pickup
We'll remind you the day before to have your laundry ready for pickup. And for good measure, we'll let you know when our driver is on the way. Your perfectly washed, fluffed, and folded clothes will be returned the next day.
Cities and Towns We Service in Texas
HappyNest services all of the cities and towns listed below. If you don't see your area in the list, enter your information and join our waitlist. We will notify you when service opens up in your area!