Tennessee is a state full of spirit with over 30 whiskey distilleries and the love of country music. No matter your music taste, though, laundry is something everyone dislikes. HappyNest's home laundry service is here to make sure you can still enjoy your music without the bad aftertaste of dirty laundry.
Tennessee Whiskey and Washers
With over 30 distilleries, there's nothing better than being able to choose your favorite whiskey. We get it; every detail that goes into making one bottle is just as important as the rest. HappyNest is just as detail-oriented in our laundry services. That's why we offer a variety of options in Tennessee for cleaning your clothes exactly how you like them.
Have specific laundry instructions? Choose from our selection of detergents to get your clothes squeaky clean: Tide, Gain, All Free & Clear, and Seventh Generation.
If you like your clothes feeling soft as grass, without the itching from pollen, we offer a variety of softeners to best suit your needs: Downy, Gain, All Free & Clear, or White Vinegar.
Dryer sheets can be just as important as choosing how to seal the whiskey bottle, so we offer a few options to choose from here as well: chosen Bounce, Gain, or All Free & Clear.
And we can't forget those pesky stains that sometimes show up, that's why we offer some options for stain-fighting power: Clorox, Clorox2, and OxiClean's bleach options.
So no matter how picky you are, there's something for everyone with HappyNest's laundry service options.
Singing Socks
The idea of socks singing sounds like something out of a horror movie. But they do exist…sort of. Washing and drying laundry isn't necessarily the quietest task to do around the house. The sounds of the tossing and turning water as it pushes soap to clean away the smell and dirt creates constant background noise. And hearing that in the background of meetings or class isn't the most ideal. Where did those few moments of silence go?
With the wash and fold services available here in Tennessee, HappyNest's laundry service is ready to help you find those quiet moments again. Listen to some of the music created in Tennessee, while our laundry pickup service lets you forget your laundry even existed. That is, forget until our drop off laundry service leaves it for you, clean and folded exactly how you like it. Work on regaining the peace in your home. And if you're not a fan of the quiet, blast your music in peace. Whichever sounds better to you.
Why Choose HappyNest in Tennessee?
We would like to think we are the only ten you see when it comes to our pickup and drop off laundry services. Making our laundry services easy to use is one reason why HappyNest works to change with time.
HappyNest is an affordable option. With no pickup or drop off laundry fee, we take the worry out of extra charges.
HappyNest is easy to use. Seriously. It's as easy as three steps:

Sign up on HappyNest's laundry service app for iOS or Android, through the website, or calling (855) 335-9274.
Enter your zip code to choose your location.
Fill out a few questions and create your account.

HappyNest is safe. We understand that, in times like these, it can be scary to trust someone when it comes to cleaning. Read about all our safety measures in our COVID-19 Mitigation.
We want you to experience all you can while being home, whether that is reading the next book on your list, teaching your kids, or starting a new job from home. Do life, not laundry.
HappyNest is Here in Tennessee For You
Home should be a place you enjoy, not a place of dread. So enjoy whatever makes you happiest in Tennessee, and let HappyNest worry about your laundry. With our laundry services, choose to have us pick up and drop off your laundry instead of doing it all yourself. Call about our services at (855) 335-9274, or sign up online.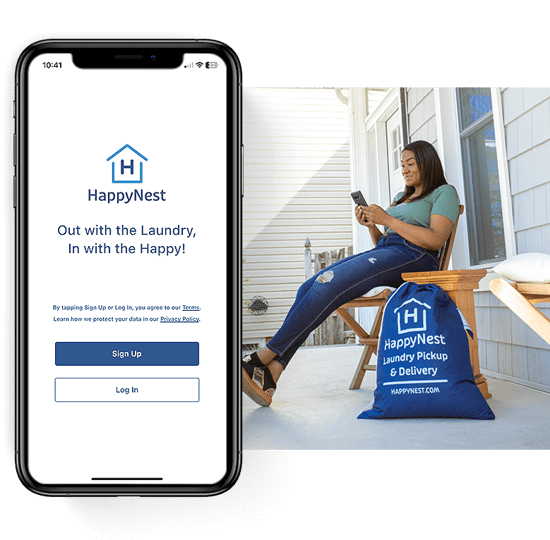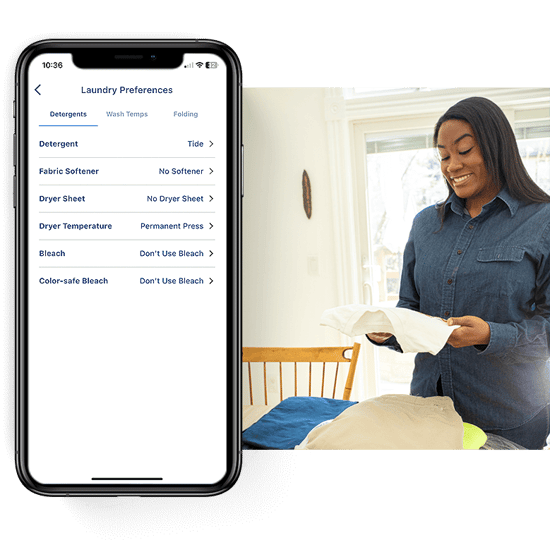 Customize Your Preferences
Choose your pickup day, select your detergent, folding preferences, and more. You can change your settings anytime!
Customize Your Preferences
Choose your pickup day, select your detergent, folding preferences, and more. You can change your settings anytime!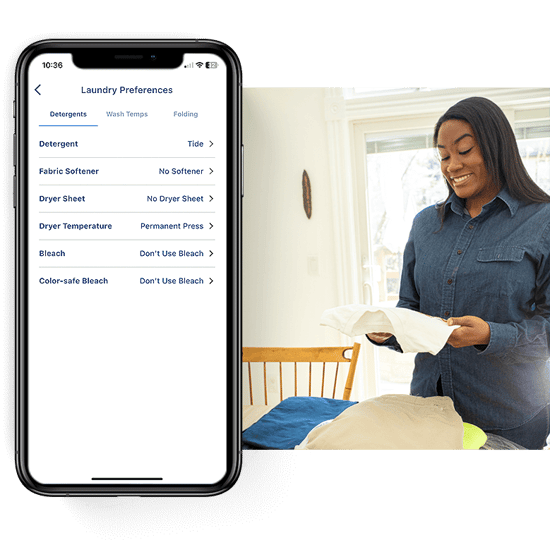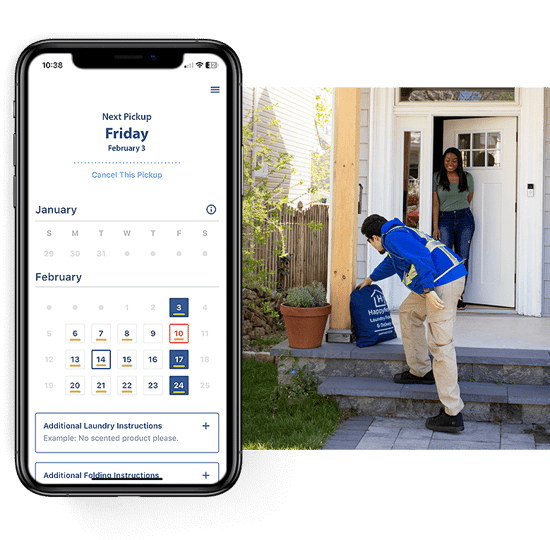 Leave Out For Pickup
We'll remind you the day before to have your laundry ready for pickup. And for good measure, we'll let you know when our driver is on the way. Your perfectly washed, fluffed, and folded clothes will be returned the next day.
Cities and Towns We Service in Tennessee
HappyNest services all of the cities and towns listed below. If you don't see your area in the list, enter your information and join our waitlist. We will notify you when service opens up in your area!