Missouri is home to famous writers, the Gateway Arch, amazing barbeque, and you. But this state isn't the only thing surrounded. With all that Missouri has to offer, spending time at home can feel cramping. HappyNest's residential laundry service wants to make those four walls stop shrinking.
Whether working from home or looking at online school, so much time indoors can make a home feel a little more cramped. We get it. That's why HappyNest's pickup and drop off laundry service wants to help you gain back that homey feeling.
But Laundry is Fun…Right?
Isn't that the same lie our parents told us when we were kids? So why are you still telling yourself to believe it? Granted, who doesn't love to spend hours washing their clothes and waiting for each cycle to finish before beginning the next. The long and tiring process of folding each individual piece of clothing. Honestly, that sounds like just another tiring chore waiting to be done in your busy schedule.
That is why HappyNest's wash and fold laundry services are here in Missouri. We know time is precious, so don't waste any doing a chore when you have so many other things to enjoy doing.
Why Choose HappyNest in Missouri?
It's a great question that we're constantly trying to answer. The world is ever-changing, and so are we. Missouri is changing too, and here at HappyNest, our full-service laundry operation is always changing to better suit your needs.
HappyNest is an affordable option. With no pickup or drop off laundry fee, we take the worry out of extra charges.
HappyNest is easy to use. Seriously. It's as easy as three steps:
Sign up on HappyNest's laundry service app for iOS or Android, through the website, or calling (855) 335-9274.
Enter your zip code to choose your location.
Fill out a few questions and create your account.
HappyNest is safe. We understand that, in times like these, it can be scary to trust someone when it comes to cleaning. Read about all our safety measures in our COVID-19 Mitigation.
So let us deem laundry as fun while you find what you really enjoy.
As Maya Angelou, born in St. Louis, said: "You may not control all the events that happen to you, but you can decide not to be reduced by them." Let us help you claim back your time and space. Laundry takes your time and energy. Do life, not laundry.
Laundry Lacks Flavor
Not only does HappyNest provide wash and fold laundry services, but we also provide a variety of detergents ad soaps to get your laundry done how you like it. Whether you like it plain and simple, or with every possible topping, we have options for you.
Choose from our selection of detergents to get your clothes squeaky clean: Tide, Gain, All Free & Clear, and Seventh Generation.
We can't offer actual clouds, but we can try and make your clothes feel like them with our softeners: Downy, Gain, All Free & Clear, or White Vinegar.
Dryer sheets can be just as important in the last steps of laundry, so we offer a few options here as well: chosen Bounce, Gain, or All Free & Clear.
And we can't forget those pesky stains, that's why we offer some options for stain-fighting power: Clorox, Clorox2, and OxiClean's bleach options.
No matter your laundry preferences, HappyNest's laundry service is here to meet your needs.
Join HappyNest and Feel the Happiness
With the pickup and drop off laundry service option provided, HappyNest is here to help you remember what's important to you. What things you'd much rather be doing instead of washing and drying laundry.
Home should be a place you enjoy, not a place of dread. So enjoy whatever makes you happiest in Missouri, and let HappyNest worry about your laundry. Choose to have us pick up and drop off your laundry instead of doing it all yourself. Call about our services at (855) 335-9274, or sign up online.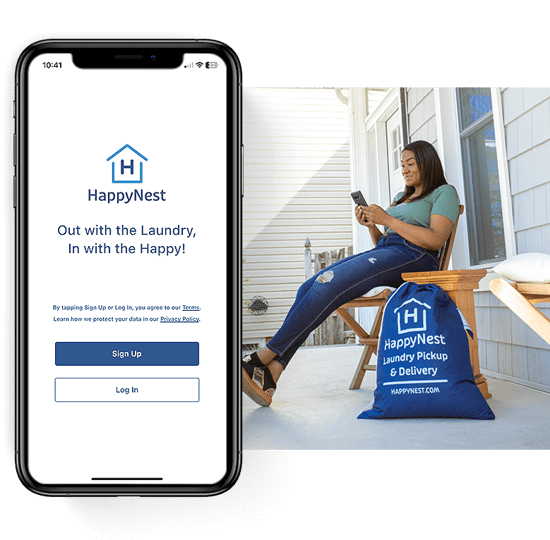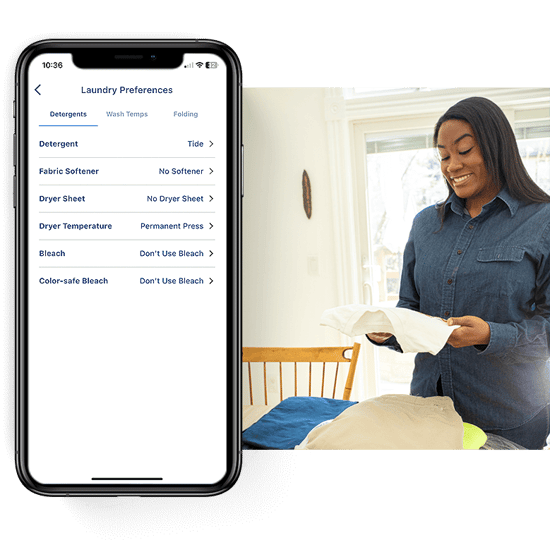 Customize Your Preferences
Choose your pickup day, select your detergent, folding preferences, and more. You can change your settings anytime!
Customize Your Preferences
Choose your pickup day, select your detergent, folding preferences, and more. You can change your settings anytime!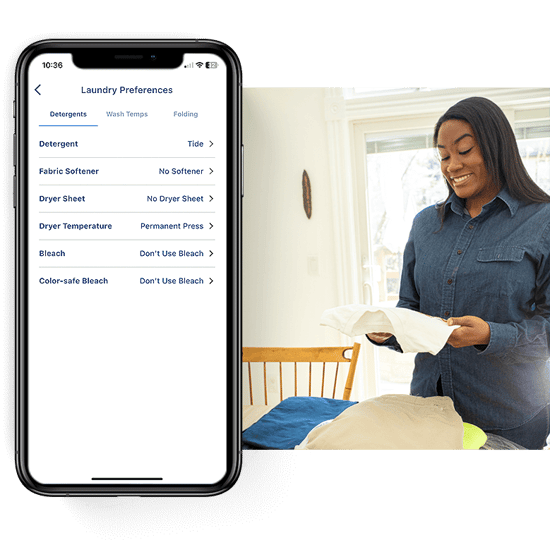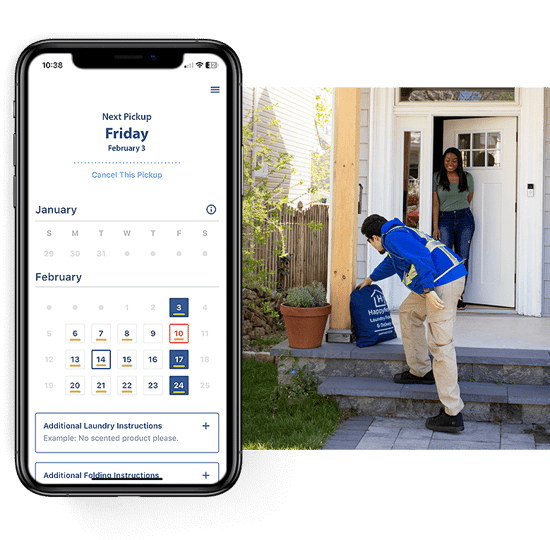 Leave Out For Pickup
We'll remind you the day before to have your laundry ready for pickup. And for good measure, we'll let you know when our driver is on the way. Your perfectly washed, fluffed, and folded clothes will be returned the next day.
Cities and Towns We Service in Missouri
HappyNest services all of the cities and towns listed below. If you don't see your area in the list, enter your information and join our waitlist. We will notify you when service opens up in your area!