Home to beautiful evergreen forests, jagged mountains, and windswept beaches, Washington is a state where nature's beauty is always on display. Still, you've got a crowded To-Do list that leaves you with barely any time to take in all of Washington's scenic sights.
Luckily, HappyNest's full-service laundry is now available across Washington to make sure that you never have to choose between exploring the Evergreen state and taking care of your family's clothes.
If you're looking to revamp your family's laundry experience, then the HappyNest laundry service is the laundry service for you!
Transforming Laundry Cycles Across Washington!
The HappyNest wash and fold laundry service is helping families from Amboy to Yacolt experience the laundry cycle and life in Washington like never before. Once you sign up for HappyNest, you'll never have to spend another minute in the laundry room!
HappyNest's amazing service starts when you make your account, either by visiting our website, sending us an email, or contacting our customer service team at (855) 335-9274. We've streamlined the registration process so that you can start using the best laundry service in Washington in just three minutes!
From there, you get to build the laundry service of your dreams. Whether you customize your service using our comprehensive list of laundry products or you have specific instructions for how to take care of your clothes, HappyNest's laundry service lets you keep total control of the laundry process.
Once you schedule a pickup, you just have to make sure to leave your laundry bag out for our pickup team, and the HappyNest full-service laundry will take care of everything else! We'll even send you reminders before your pickup, so you'll never have to worry about missing a pickup.
While you're enjoying your laundry-free lifestyle in Washington, HappyNest will wash and fold all of your clothes, and have them back on your porch the next day.
Don't Stress – Use HappyNest!
How Much Does HappyNest Cost?

HappyNest's wash and fold laundry service is available across Washington for less than $2.00 per pound of laundry, so it's sure to be perfect for both you and your budget!

What Can I Wash With HappyNest?

The HappyNest laundry service is perfect for your clothes, your bedding, your towels, and even your shoes (so long as they're machine washable)!

What Products Does HappyNest Use?

Our catalogue of laundry products includes all of your favorite brands, like Tide, Gain, Cheer, Downy, Bounce, Oxi-Clean, allergen-free and eco-friendly options, and many more!
Do Life, Not Laundry, with HappyNest!
You live in Washington, one of our nation's most incredible states, so you deserve an incredible laundry delivery service! Try HappyNest today, and enjoy life without laundry!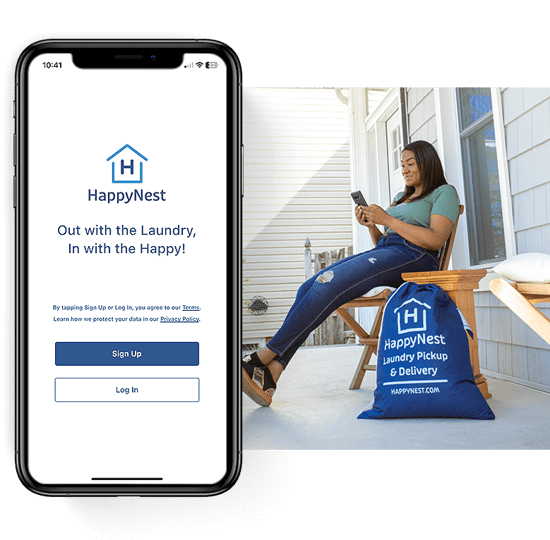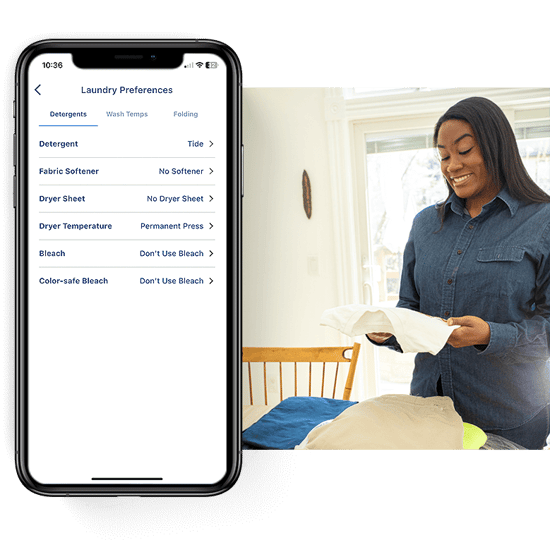 Customize Your Preferences
Choose your pickup day, select your detergent, folding preferences, and more. You can change your settings anytime!
Customize Your Preferences
Choose your pickup day, select your detergent, folding preferences, and more. You can change your settings anytime!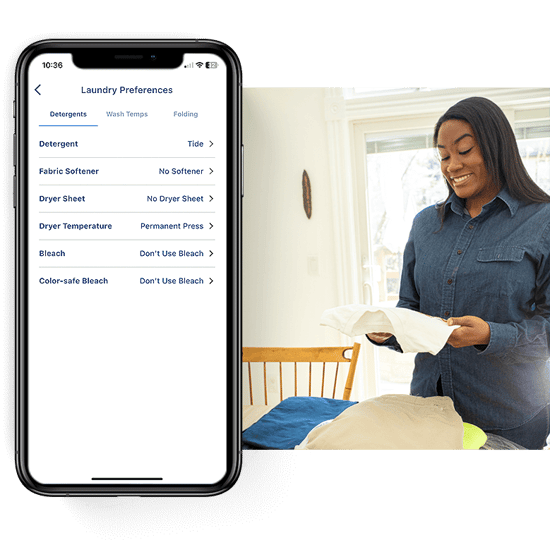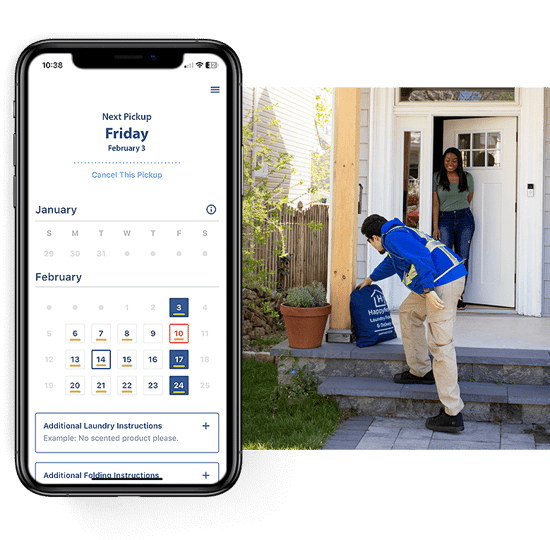 Leave Out For Pickup
We'll remind you the day before to have your laundry ready for pickup. And for good measure, we'll let you know when our driver is on the way. Your perfectly washed, fluffed, and folded clothes will be returned the next day.
Cities and Towns We Service in Washington
HappyNest services all of the cities and towns listed below. If you don't see your area in the list, enter your information and join our waitlist. We will notify you when service opens up in your area!