In Georgia on My Mind, the late, great Ray Charles remembered the state of Georgia "as sweet and clear as moonlight through the pines." But life is busy these days. Whether you are commuting or managing the delicate balancing act of working from home, you are probably juggling work deadlines, kids' school and sports schedules, household chores, and many other responsibilities. How much time do you have to enjoy the moonlight on a beautiful Georgia night that Ray Charles sang about?
HappyNest pickup and drop off laundry service would like to help you find the free time to slow things down a bit, by taking your laundry off your hands.
Why choose HappyNest in Georgia?
We are ecofriendly: We offer name-brand detergents as well as natural and perfume-free options. We can even use white vinegar as a fabric softener if that's your preference.
We are convenient: On laundry day, just leave your laundry outside your door. We will come pick it up and return it to you washed and folded the next day.
We are flexible: Do you want your laundry picked up on the same day every week? No problem. Maybe you are not a regular-schedule type of person and you rather just have your laundry picked up by request. That's fine too. Just let us know your preference.
We are affordable: While our rates may vary slightly from town to town, we strive to keep costs low. Often, our service is not much more than doing laundry on your own. Call us at 855-335-9274 to find our rates near you.
What will you do with your free time while HappyNest laundry pickup service is cleaning your clothes? You can let yourself relax. You will have more time to get out of the house for a while. Or, you will even have more time to just enjoy staying home without feeling like there are piles of chores waiting for you.
Georgia outdoors
When you can escape from laundry, maybe you will find time to head outside and enjoy the natural beauty of the Peach State. You can finally take the time to explore some of Georgia's gems that are a bit more off the beaten track. Did you realize that Amicalola Falls is the third highest waterfall east of the Mississippi? In Amicalola Falls State Park you can zipline, hike to the Appalachian trail, (which is just eight miles away) or just relax, feel the cool mountain air, and take in the breathtaking views of the North Georgia Mountains. Of course, if this view isn't high enough for you, you can head over to Black Rock Mountain, Georgia's highest state park, with some amazing views of the Blue Ridge Mountains. You will encounter several small waterfalls along the trail, continuing your waterfall tour of Georgia. Just the sound of the wind blowing through the trees can definitely help you forget about your daily routine for a while.
The flavors of Georgia
Maybe you don't need more outdoor physical space, but you are craving more personal space to do the things you want to do. Outsourcing your laundry to HappyNest laundry service means you can stay in your house and focus on something other than washing clothes. Grill out, and experiment with adding some extra tang to your barbecue sauce. You know, most of the country has never even tasted shrimp and grits, but Georgia has an entire festival devoted to it. Maybe its time to try the latest award-winning shrimp and grits recipe. After all, nothing brings the family together, like a good meal. Whatever you choose to serve makes no difference to us – from barbecue sauce to Brunswick stew, HappyNest drop off laundry service cleans all kinds of stains.
The point is, we all have enough on our plates already without worrying about treating stains and folding clothes. HappyNest wash and fold laundry service wants to help you do life, not laundry. So, give us a call at 855-335-9274, or schedule online, and find out what we can do for you. Then just sit back and play an old sweet song and look for moonlight through the pines.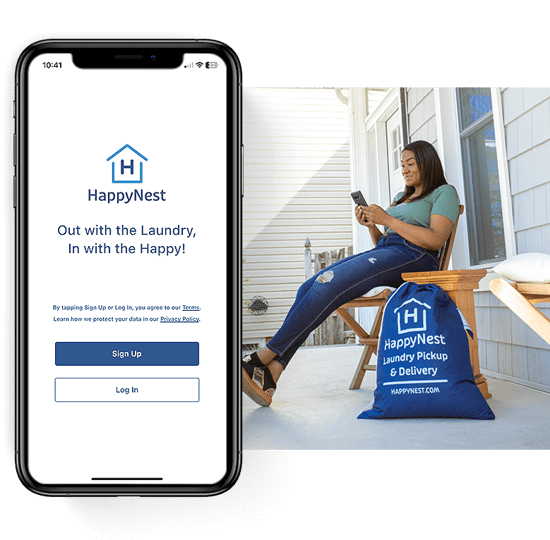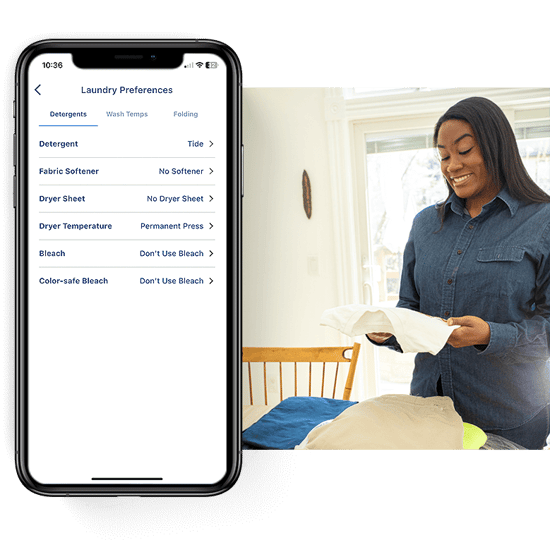 Customize Your Preferences
Choose your pickup day, select your detergent, folding preferences, and more. You can change your settings anytime!
Customize Your Preferences
Choose your pickup day, select your detergent, folding preferences, and more. You can change your settings anytime!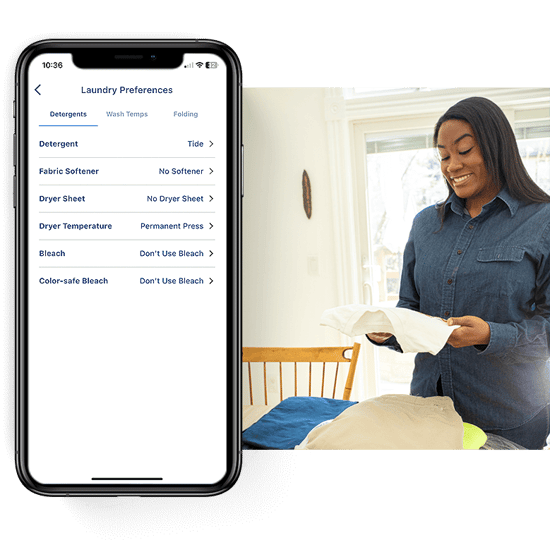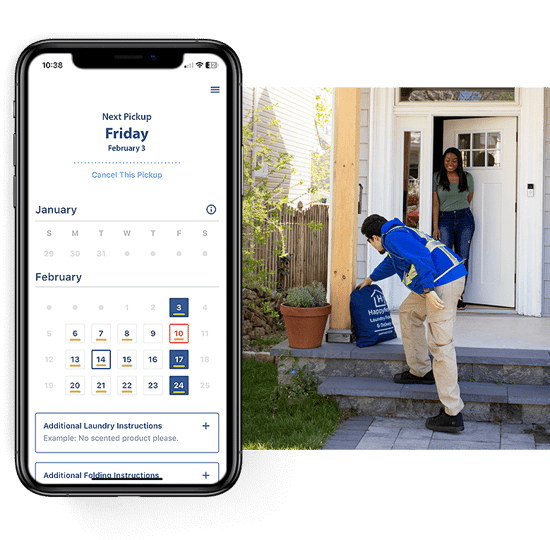 Leave Out For Pickup
We'll remind you the day before to have your laundry ready for pickup. And for good measure, we'll let you know when our driver is on the way. Your perfectly washed, fluffed, and folded clothes will be returned the next day.
Cities and Towns We Service in Georgia
HappyNest services all of the cities and towns listed below. If you don't see your area in the list, enter your information and join our waitlist. We will notify you when service opens up in your area!