Laundry is annoying to deal with, but the current state of the world makes this chore even more of a nuisance! Who wouldn't put off lugging a heavy basket of dirty clothes? Your idea of a work-at-home lunch break probably wasn't sorting through delicates and whites. HappyNest is a pickup and delivery laundry service that knows laundry, and loves it too. We know your home state of Virginia has changed along with the rest of the world. Despite the global changes, HappyNest's laundry service remains reliable and ready for you to sign up and schedule a pickup date. If anything, we are better now more than ever as we follow CDC-recommended guidelines, which can be viewed . Are you ready to get started? We're ready to welcome you.
Download our app or visit our website and schedule your pickup and drop off dates. Whether weekly or by request, HappyNest home laundry service is here to serve the residents of Virginia.
Customize your laundry preferences. Choose your detergent, softener, dryer temperature, and even how you want your belongings folded!
Leave your dirty clothes in a designated bag on the porch and we will be by for pickup.
You can expect the full laundry service and a twenty-four hour delivery.
A Mobile Laundry Service for Active Virginians
We are all aching for normalcy. HappyNest's wash and fold laundry service opens up your schedule so you can find the routine that makes you happy during these trying times. Virginia is home to the lush greenery of the Blue Ridge Mountains. Breath in the fresh air and find peace in Shenandoah National Park. It will only take a moment to schedule your laundry pickup before you begin your meditative bird-watching session. Sure, you might get a bit grubby kneeling in the dirt. HappyNest is well-versed in ridding clothes of unwelcome grime. Laundry is a no-brainer for us and no stress for you.
Virginia is for Lovers
Date night isn't off the menu just because going out is a no-no. Say you have that special outfit for a stay-at-home romantic meal for two that you want looking just right. Just log in to your account and update your Laundry Preferences, adding a note in the "Laundry Instructions" or "Folding Instructions" field. Our employees check your personal laundry profile for any changes every time they process your laundry. You can pick up your carry-out pappardelle primavera from Trio Grill in Falls Church, Virginia. HappyNest's residential laundry service will always help you to look your best even for the most unique occasions.
Choosing a Safe and Reliable Pickup and Delivery Laundry Service in Virginia
Your mask is the first accessory you don nowadays. HappyNest's laundry service is equipped to fully sanitize facial coverings so they're always fresh and ready for your next outing. You can select a hot water setting for your wash in your laundry preferences. HappyNest has no problem letting your favorite handmade face covering air dry before we deliver it to you the next day. You can feel confident and safe when you explore Virginia's verdant orchards–from Hartland to Jenkins –in your newly cleaned protective gear. Let the great Virginia outdoors become a safe space for you and your family,
HappyNest is here to help the daily struggles of household chores seem less daunting. We offer a thorough pickup and delivery laundry service in exchange for the few minutes it takes to sign up. Visit our app or website to learn more about pricing depending on your location. We are also happy to answer any questions over the phone at (855) 335-9274. You can begin curating your laundry plan the moment you've set up your HappyNest profile. Help us help you and do life, not laundry!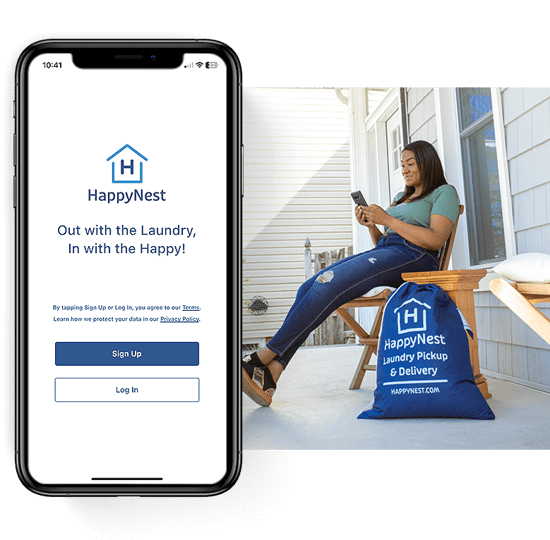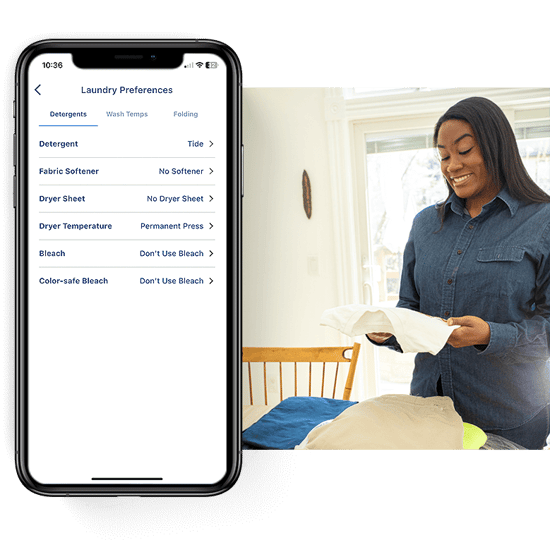 Customize Your Preferences
Choose your pickup day, select your detergent, folding preferences, and more. You can change your settings anytime!
Customize Your Preferences
Choose your pickup day, select your detergent, folding preferences, and more. You can change your settings anytime!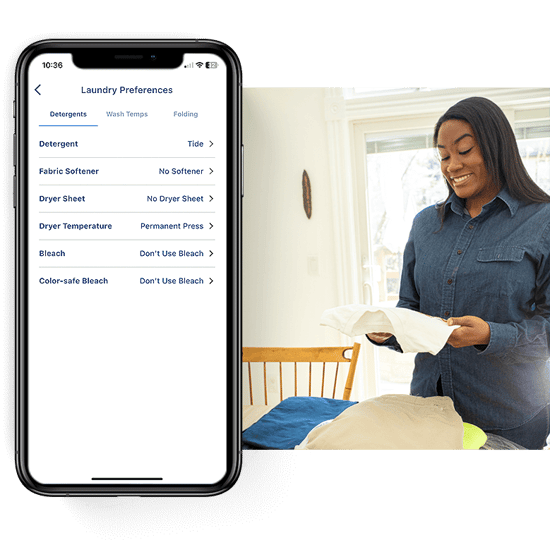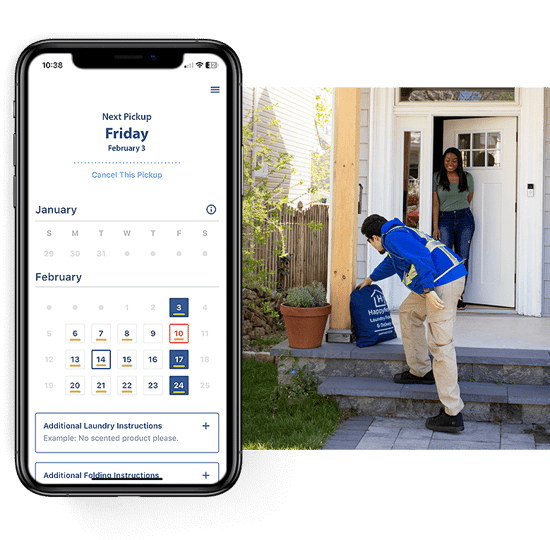 Leave Out For Pickup
We'll remind you the day before to have your laundry ready for pickup. And for good measure, we'll let you know when our driver is on the way. Your perfectly washed, fluffed, and folded clothes will be returned the next day.
Cities and Towns We Service in Virginia
HappyNest services all of the cities and towns listed below. If you don't see your area in the list, enter your information and join our waitlist. We will notify you when service opens up in your area!