Illinois, your great state gave us the first McDonald's, the first Dairy Queen, and the first Ferris wheel, (not to mention some of the first skyscrapers and ice cream sundaes). We are anxiously awaiting your next great inspiration. But, HappyNest laundry service understands that it's not easy to feel inspired when you are surrounded by piles of laundry. We want to help.
Let us clear your hampers, and help clear your to-do list of some of the things you don't have time to do. Because in Illinois, when you have a little extra time on your hands, who knows what you might come up with?
Why choose HappyNest in Illinois?
We are ecofriendly: We offer name-brand detergents as well as natural and perfume-free options. We can even use white vinegar as a fabric softener if that's your preference.
We are convenient: On laundry day, just leave your laundry outside your door. We will come pick it up and return it to you washed and folded the next day.
We are flexible: Do you want your laundry picked up on the same day every week? No problem. Maybe you are not a regular-schedule type of person and you rather just have your laundry picked up by request. That's fine too. Just let us know your preference.
We are affordable: While our rates may vary slightly from town to town, we strive to keep costs low. Often, our service is not much more than doing laundry on your own. Call us at 855-335-9274 to find our rates near you.
Let HappyNest pickup laundry service lighten your load
It can seem like laundry never ends. First clothes, then towels, then sheets, and then it's time to start cleaning the clothes again. Why not take a break from that vicious cycle? The problem is, life is short, and doing laundry is not. HappyNest wash-and-fold laundry service wants to help you do life, not laundry.
More time to experience Illinois attractions
Think of all the other things you can do in the great state of Illinois when you aren't stuck washing, drying, and folding your clothes. Wander around and take in some of that great Chicago architecture. Feel the cool breeze (or cold breeze, depending what month it is) blowing off Lake Michigan. Are you downstate? Head over to Shawnee National Forest for some fresh air and visit the Garden of the Gods for some of the best views of your state. This is not your laundry day, it's your day. You've earned the right to enjoy it.
Rest and relaxation
Maybe time off for you is not about exploring, it's about relaxing. Good for you. While HappyNest drop off laundry service cleans your clothes, you can sit back, kick your feet up, and watch the Bears, or the Bulls, the Sox or Cubs, or the Blackhawks. Wherever you are in Illinois, you can't be far from deep dish pizza, Italian beef sandwiches, or Chicago-style hot dogs. Take time to watch a game, eat a good meal, and recharge. Don't worry about a thing. From pizza sauce, to grease, to beer, we get all sorts of stains out of clothing.
Maybe with a little time off you will find time to come up with the next great Illinois invention, like the next new Ferris wheel. Or maybe you will just have time to enjoy the thrill of riding one. The point is your time off from work should be just that: time off. We all need to recharge. HappyNest pickup and drop off laundry service understands that, and that's why we are not only inexpensive and professional, but we are also devoted to making this as easy for you as possible. You don't even have to warm up the car, brave the cold, and find a parking spot to come find us. We come right to you. So, give us a call, at 855-335-9274, and find out how we can serve you.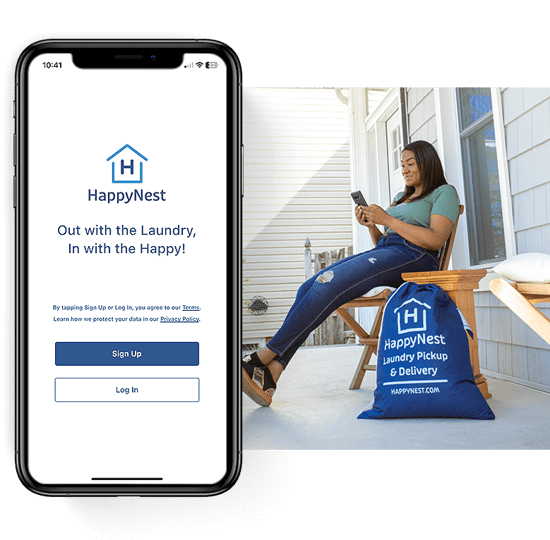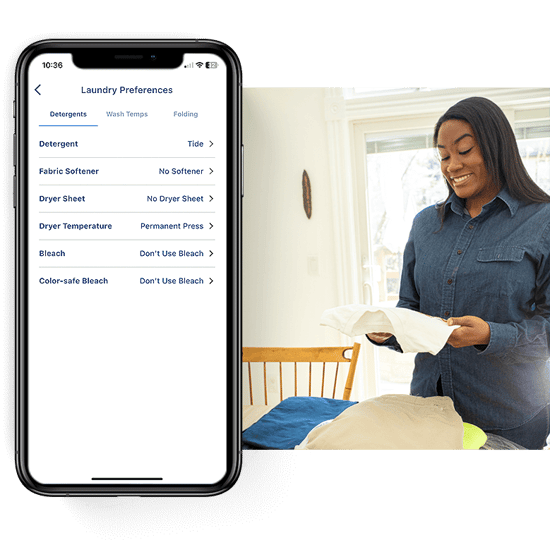 Customize Your Preferences
Choose your pickup day, select your detergent, folding preferences, and more. You can change your settings anytime!
Customize Your Preferences
Choose your pickup day, select your detergent, folding preferences, and more. You can change your settings anytime!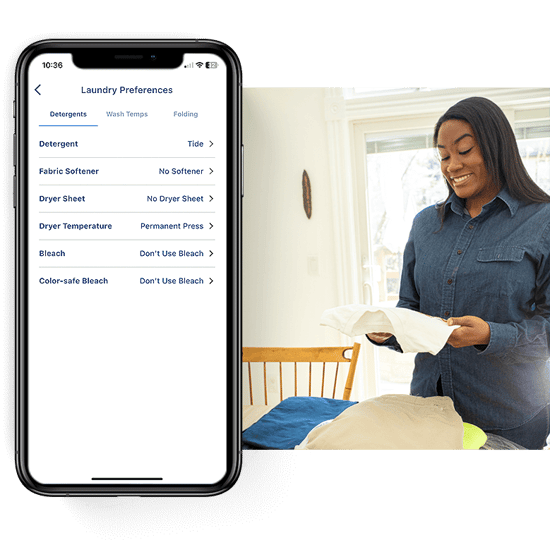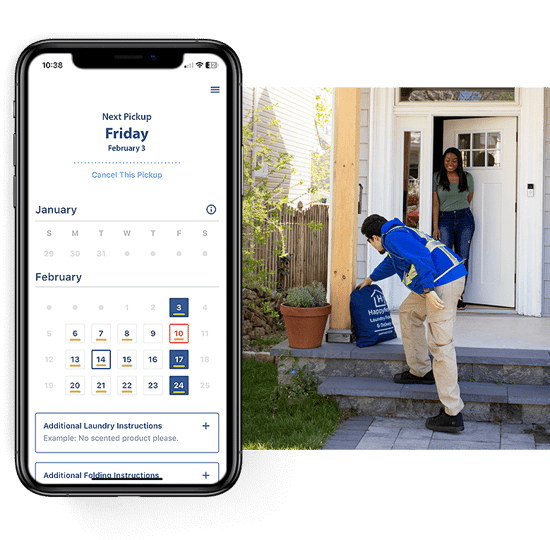 Leave Out For Pickup
We'll remind you the day before to have your laundry ready for pickup. And for good measure, we'll let you know when our driver is on the way. Your perfectly washed, fluffed, and folded clothes will be returned the next day.
Cities and Towns We Service in Illinois
HappyNest services all of the cities and towns listed below. If you don't see your area in the list, enter your information and join our waitlist. We will notify you when service opens up in your area!