New York is a state full of sparkling lights and shining dreams. However, there is one nightmare that seems never to disappear. Can you see it, seeping out into your home, slowly making its smell take over one room at a time? It's… it's…laundry! Cue the eerie music.
HappyNest is here to save the day.
Now that the nightmare is over, HappyNest would be glad to use our residential and commercial laundry service to serve you and all your laundry needs. With no pickup or delivery fees, we are here to take this chore off your To-Do list so you can hopefully dream of more than dealing with the pile of clothes and linens.
Dazzling Lights from the Washing Machine
Would you rather watch the blinking lights on your washing machine, or watch the stars and twinkling lights in New York? This state not only offers to show you the stars, but also the dazzling lights from the cities. And from the comfort of your own home, no matter what star you prefer, the gas or person, there is always something to see and believe in.
Here at HappyNest, we believe in providing the best for our customers. That's why we hope you'll believe in us with our wash and fold laundry services. With our laundry services, we offer more than just clean clothes.
Why Choose HappyNest?
HappyNest is an affordable option. With no pickup or drop-off laundry fee, we take the worry out of extra charges.
HappyNest is easy to use. Seriously. It's as easy as three steps:

Sign up on HappyNest's laundry service app for iOS or Android, through the website, or calling (855) 335-9274.
Create an account.
Customize your preferences and select a pickup day.

HappyNest is safe. We understand that, in times like these, it can be scary to trust someone when it comes to cleaning. Read about all our safety measures in our COVID-19 Mitigation.
Inside, Outside, Life is All Around New York
Whether you take a visit to the Niagara Falls State Park or stay inside while your life surges on in these new times, life keeps moving. Do life, not laundry. Don't wait for that load to finish. With HappyNest's pickup and drop-off laundry services, let us take that worry off your mind so you can focus on what matters the most to you.
Laundry should be the last thing on your mind as you try and figure out the next step. Whether you need your favorite power suit for this upcoming interview, your favorite socks for an extra bit of luck, or the softest sweatshirt for the necessary comfort, we get how important clothes can be.
HappyNest's mobile laundry service wants to make New York feel like home again. So let us take over the chore while you take over life.
Are You Picky About Your Laundry Too?
We get it. Everyone is different. That's why HappyNest's wash and fold laundry service offers a variety of preferences in New York.
Choose your favorite

Detergent: Tide, Gain, All Free & Clear, or Seventh Generation
Softener: Downy, Gain, All Free & Clear, Downy Free & Clear, or White Vinegar
Dryer Sheet: Bounce, Gain, or All Free & Clear
Bleach: Clorox, Clorox2, or OxiClean
We are always trying to update and serve you better, which is why we let our options change to fit your needs.
Choose Happiness with HappyNest
Find those pleasures in life without the burden of laundry. HappyNest's pickup and drop off laundry services are here to help you.
HappyNest offers both residential and commercial laundry services for New York residents. With our variety of washing options, choose your preference. Our wash and fold laundry service will do it exactly how you like without you having to leave your house. Choose to have us pick up and drop off your laundry instead of doing it all yourself. Call or text about our services at (855) 335-9274, or sign up online.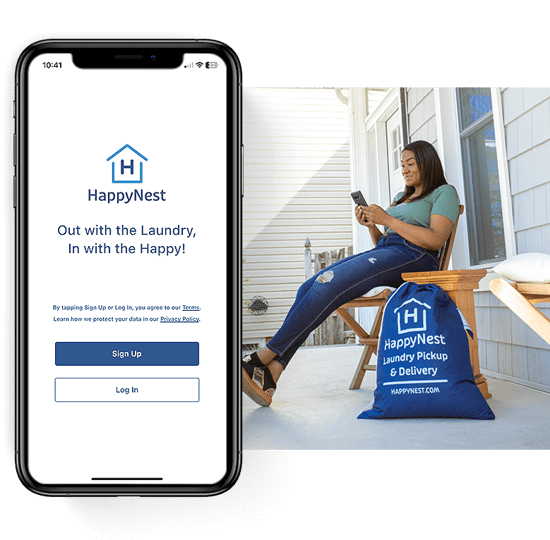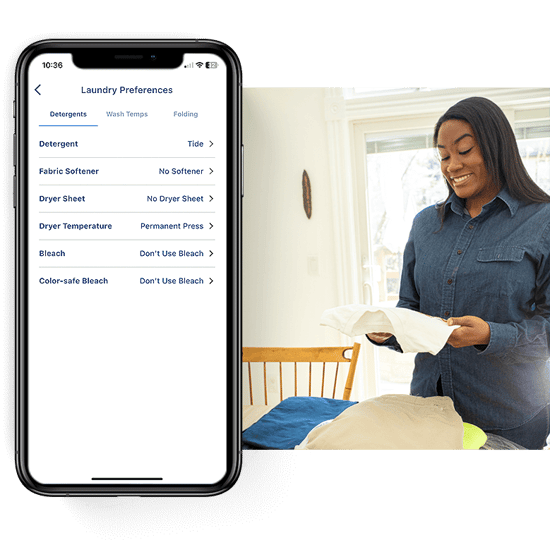 Customize Your Preferences
Choose your pickup day, select your detergent, folding preferences, and more. You can change your settings anytime!
Customize Your Preferences
Choose your pickup day, select your detergent, folding preferences, and more. You can change your settings anytime!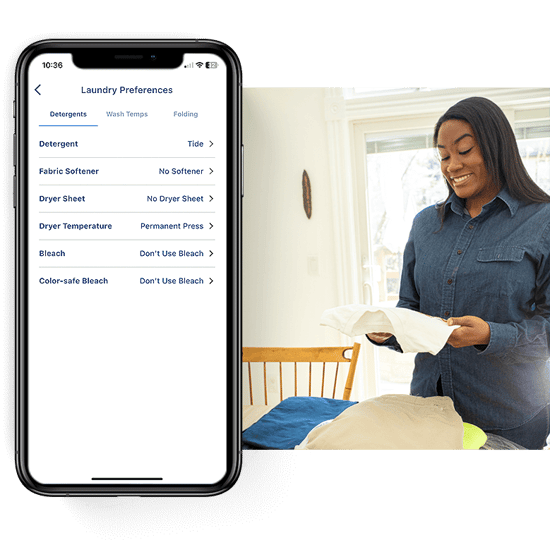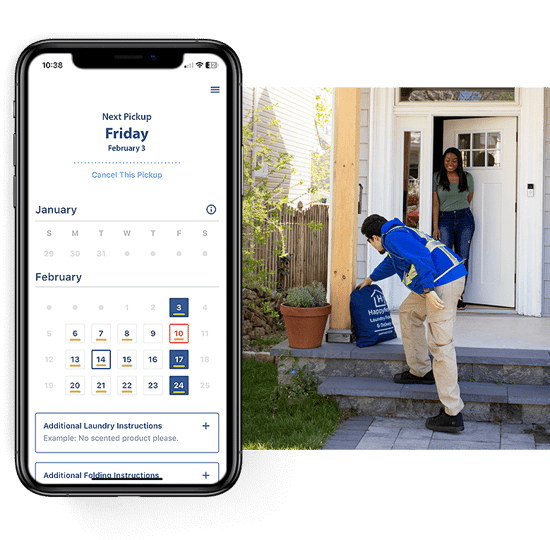 Leave Out For Pickup
We'll remind you the day before to have your laundry ready for pickup. And for good measure, we'll let you know when our driver is on the way. Your perfectly washed, fluffed, and folded clothes will be returned the next day.
Cities and Towns We Service in New York
HappyNest services all of the cities and towns listed below. If you don't see your area in the list, enter your information and join our waitlist. We will notify you when service opens up in your area!