Delaware, home of bay breezes, Fighting Blue Hens, and endless beaches. It's no wonder that your state is the first state. You are literally right in the middle of things, within driving distance of Philadelphia, Washington, D.C., and even New York City, (according to all the New Yorkers who flock to your beaches in the summer). But even at a safe distance from the three largest cities in the Northeast, life is busy. How much time do you have to enjoy the benefits of Delaware that draw tourists from hundreds of miles away?
Everyone is juggling work, family obligations, and other responsibilities, leaving not much time for the good stuff. We get it. That's why HappyNest pick-up and drop off laundry service wants to take your laundry off your hands and give you your time back.
Why choose HappyNest in Delaware?
We are convenient: On laundry day, just leave your laundry outside your door. We will come pick it up and return it to you washed and folded the next day. Yes, it's that easy.
We are flexible: Do you want your laundry picked up on the same day every week? No problem. If you are not a regular-schedule type of person and rather just have your laundry picked up by request, that's fine too. Just let us know your preference.
We are ecofriendly: We offer name-brand detergents as well as natural and perfume-free options. We can even use white vinegar as a fabric softener if that's your preference.
We are affordable: While our rates may vary slightly from town to town, we strive to keep costs low. Often, our service is not much more than doing laundry on your own. Call us at 855-335-9274 to find our rates near you.
Fresh air, fresh food
When you aren't doing laundry, you will have more time to browse for farm-fresh produce at some of the farm stands that Delaware is famous for. Or, if you are in the mood for fresh-caught seafood, your options are literally endless. Head to an outdoor table at a dockside restaurant, or pick up some just-off-the-boat seafood from one of your fresh-caught seafood markets. Better yet, if you want fresh food and fresh air, grab your fishing rod and your crab trap, and take out a boat or find a spot to sit on a dock, and wait for the seafood to come to you. Maybe bring along a little Dogfish Head, and you have a great Delaware afternoon. Don't let something like laundry keep you indoors. HappyNest residential laundry service can take care of washing and folding your clothes.
Delaware beaches
Of course, living in Delaware means all those famous beaches that people from neighboring states spend hours in the car to get to are right in your backyard. No matter where you are in Delaware, you probably have a beach less than an hour away. When you aren't doing laundry you can find a quiet beach and listen to waves, or you can go to a boardwalk beach with some of the more lively sounds of summer – like the sounds of seagulls chasing your Thrasher's fries.
The point is, you live in a place that people in other states flock to when they want to relax and unwind. You live here, and you should be able to take the time to relax and unwind here too. Laundry is a time drain stuck on repeat. At HappyNest, we have designed our pickup laundry service to use as little of your time as possible. You don't even have to come find us. Just leave your clothes outside your door and we will come to you. Best of all, there is no extra charge for that door-to-door delivery. We strive to offer affordable and personalized laundry service, so that your laundry is cleaned just the way you like it at a price that fits your budget. So give HappyNest wash-and-fold laundry service a call, at 855-335-9274, or signup online, and find out how we can serve you.
How HappyNest Works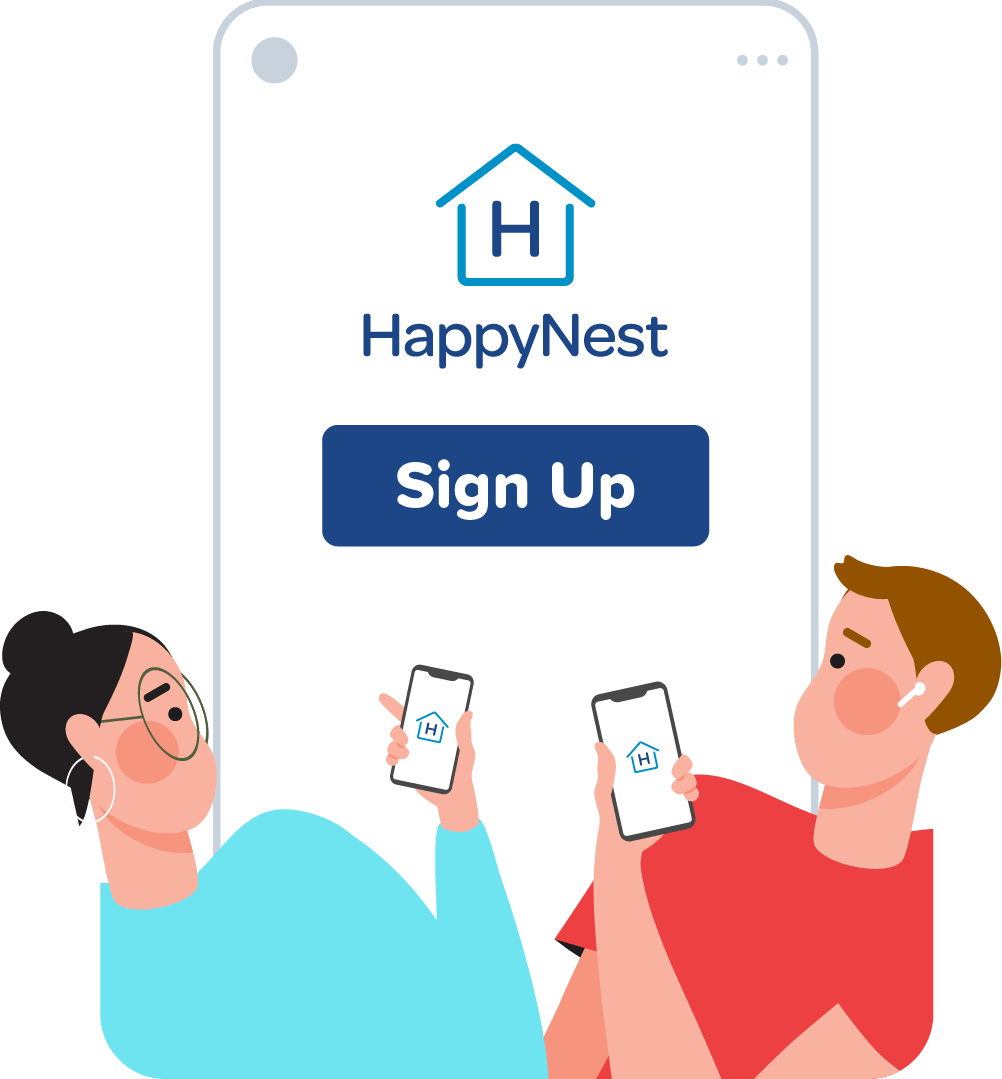 Sign Up
Download our Apple or Android app or sign up on the website and tell us how often you'd like your laundry done – weekly or by request. That's all it takes to eliminate the task of laundry from your life.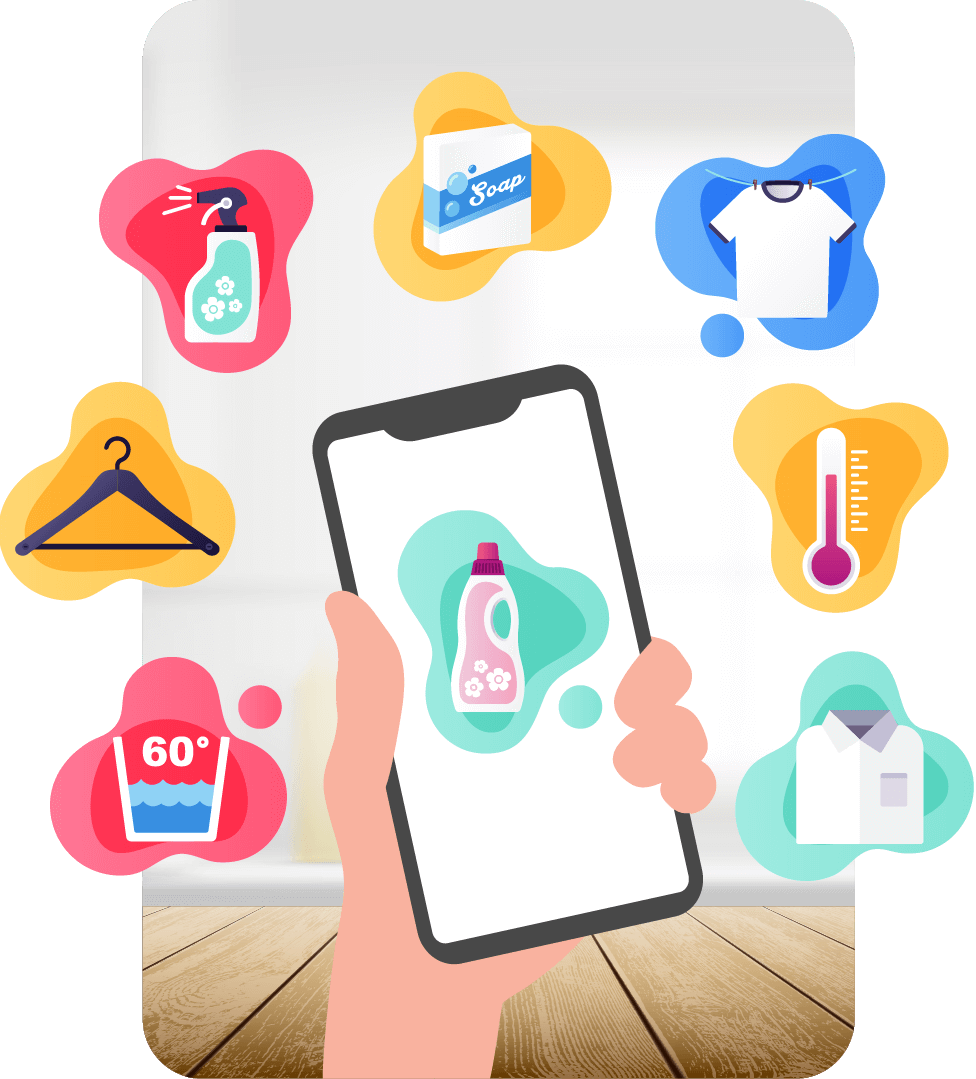 Customize
Need a soap with no perfumes? Like your socks rolled, not folded? Don't like fabric softeners? Tell us all about your laundry preferences – starting from detergent to dryer temperature. We'll get it right!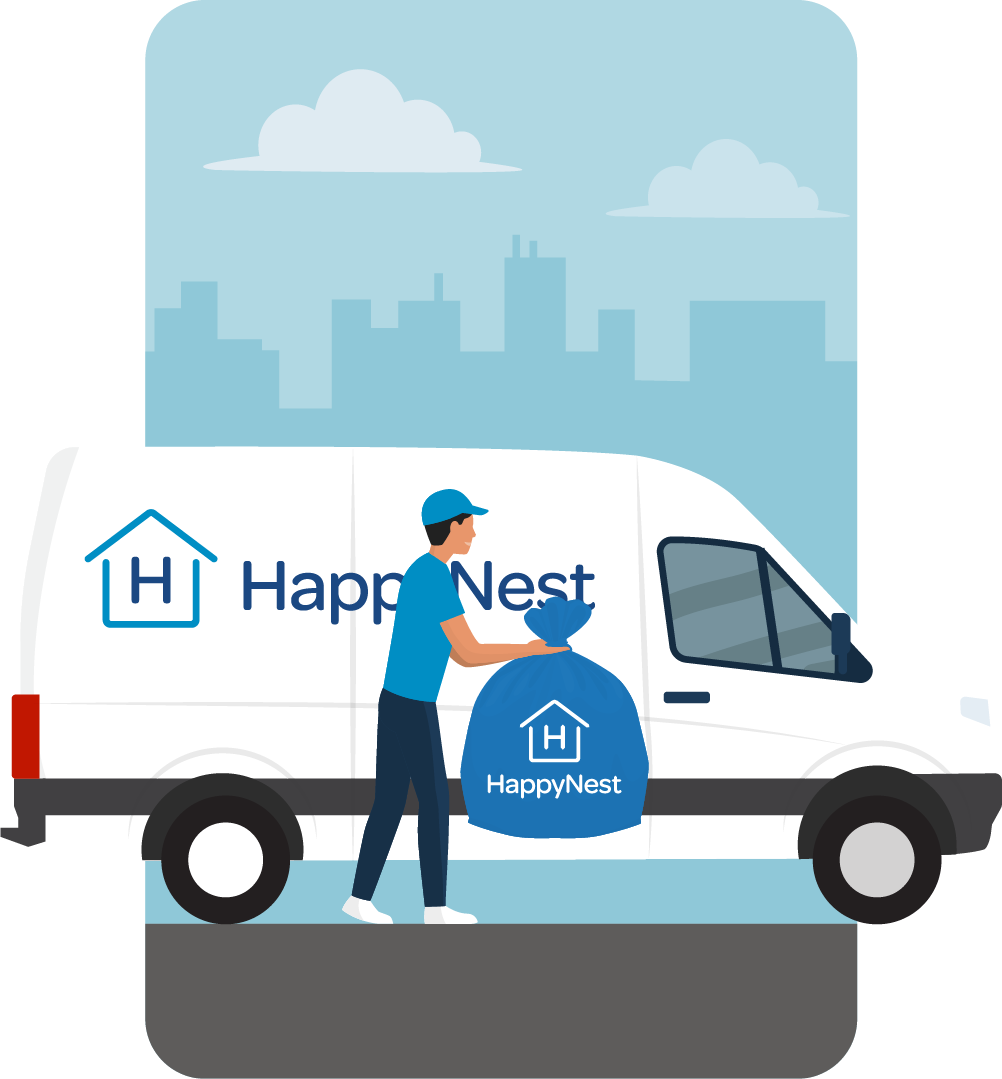 We Do The Rest!
Simply leave your clothes out in the HappyNest bag for pickup on laundry day. We'll wash, dry, fold, and return them to you the very next day!