You've opened your topmost drawer only to discover one more pair of socks left. You sigh in defeat because once again you've procrastinated doing laundry. Do you wish you had a well-trained professional team to do the laundry so you don't have to? The wait is over: HappyNest is a pickup and delivery laundry service that is equipped to assist New Jersey residents with their laundry needs. We've made the signing up process quick and simple because we know there's never enough time in the day to get everything done. Here's how to get started with your soon-to-be favorite residential laundry service:
Download our app on the App Store or Google Play; or visit our website and schedule your pickup and drop off dates. Whether weekly or by request, HappyNest home laundry service is here to serve New Jersey residents.
Customize your laundry preferences. Choose your detergent, softener, dryer temperature, and even how you want your belongings folded!
Leave your dirty clothes in a designated bag on the porch and we will be by for pickup.
You can expect the full laundry service and a twenty-four hour delivery.
A Wash and Fold Laundry for New Jersey
Atlantic City is New Jersey's crowning jewel. Life looks different right now with social distancing and mask-wearing. The wide open boardwalk still offers wholesome outdoor fun for you and your family. Make the most of temperate evenings by ordering ice cream cones from Vanina's Ice Cream. You might cringe watching chocolate sauce smeared all over the little one's shirt. But have no fear! HappyNest is a full service laundry, and we do mean full service. We try our best to remedy stains and return clothing looking brand new. We recommend pre-treating stains for the ultimate results, but our laundry professionals work with a passion to be the laundry service you can depend on and trust.
It's a Comfort Having HappyNest Laundry Service On Your Side
New Jersey isn't just bustle and activity. Sometimes you need some recreational exercise to get that satisfying muscle burn and subsequent good night's rest. Wouldn't you love to come home to newly laundered sheets and comforters? All you have to do is schedule your pickup date and HappyNest pickup and drop off laundry will retrieve your bedroom belongings. Large items like comforters, pillows and bedspreads are removed before your laundry is weighed and are then billed at a per-piece rate.Take a day to traverse Delaware Water Gap National Recreation Area, a nature park that straddles New Jersey's Delaware River and the Pennsylvania border. HappyNest strives to deliver clothes within twenty-four hours. If you time it right, you can return home with a fresh delivery, so your day of hiking ends with a relaxing slip beneath the fresh-smelling covers.
A Laundry Folding Service for the New Jersey Resident
If you had your pick between meticulously folding your wardrobe and walking through one of New Jersey's museums, which would you choose? HappyNest can guess the answer, which is why we've made folding part of our job. Of course, we also offer plenty of washing options–from detergent to softeners–but sometimes that final step is the one you put off. Learn more about our detergent brands. With more free time, you can visit Hamilton, New Jersey's Grounds for Sculpture instead of haphazardly rolling up your pajamas and jeans. Explore 42 acres of large-scale works and escape into New Jersey's art scene. Your fantastic day of leisure won't have to end abruptly with laundry when HappyNest laundry folding service is one step ahead of your to-do list.
Get signed up with HappyNest pickup and delivery laundry service the next time you have three minutes to spare. Setting up your plan and scheduling your first pickup date opens up a future where laundry is no longer a looming shadow over your life. Let the burden rest with HappyNest so you can see and experience New Jersey. Sign up today and do life, not laundry!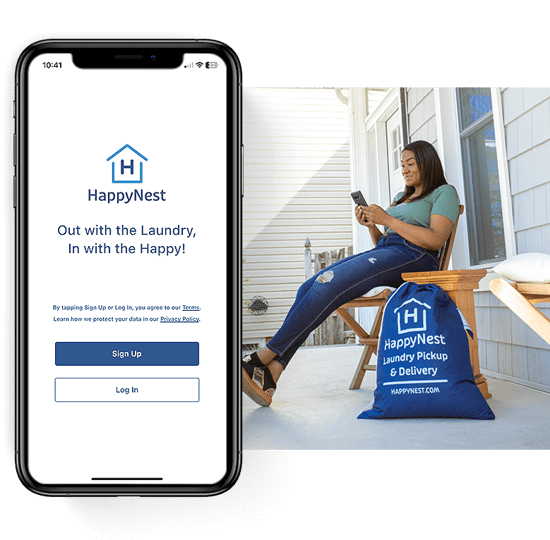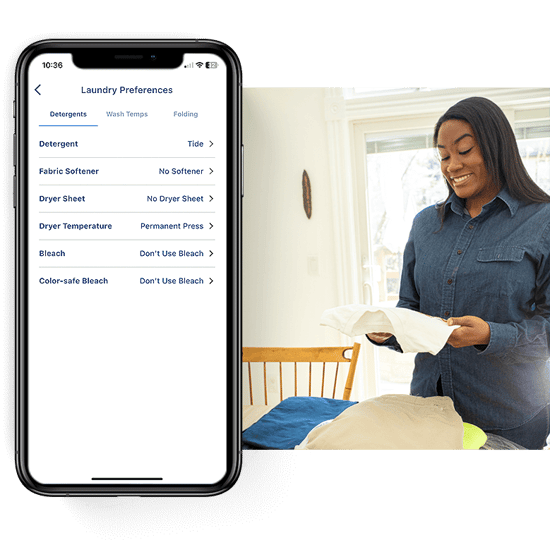 Customize Your Preferences
Choose your pickup day, select your detergent, folding preferences, and more. You can change your settings anytime!
Customize Your Preferences
Choose your pickup day, select your detergent, folding preferences, and more. You can change your settings anytime!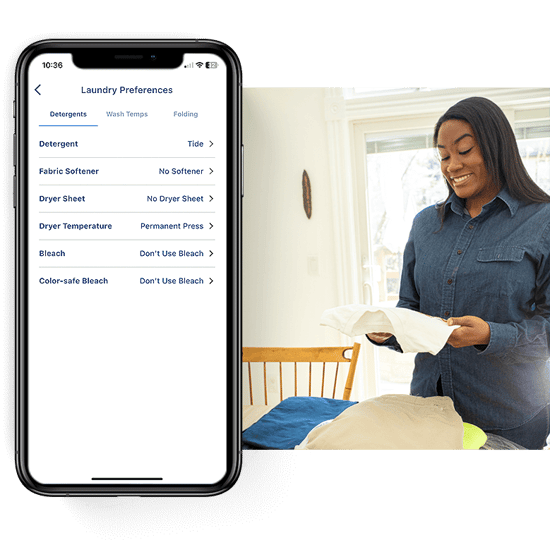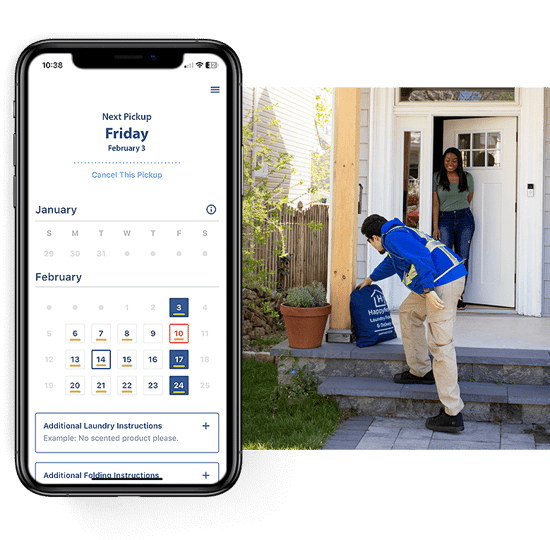 Leave Out For Pickup
We'll remind you the day before to have your laundry ready for pickup. And for good measure, we'll let you know when our driver is on the way. Your perfectly washed, fluffed, and folded clothes will be returned the next day.
Cities and Towns We Service in New Jersey
HappyNest services all of the cities and towns listed below. If you don't see your area in the list, enter your information and join our waitlist. We will notify you when service opens up in your area!