Take flight and soar in Ohio. As the birthplace to Neil Armstrong and the Wright Brothers, height seems to never be a fear in this state. But with great height comes some uncertainties. HappyNest's home laundry service wants to help remove some uncertainties from your life. So you can soar while we keep you grounded.
HappyNest is a wash and fold laundry service with free pickup and delivery. At our core is trust. In times like these, it has never been more important. Who would you rather have holding the end of the balloon string to keep it from flying away?
Why Choose HappyNest?
Trust is earned. And to earn your trust, we have a few procedures already in order in Ohio. We try to keep it at the core of our laundry services. And to do so, safety is a top priority.
Your laundry never touches other people's laundry.
Our laundry care professionals wear nitrile gloves while sorting, washing, and folding.
When your laundry is completed, we bag them in plastic and store them away from your unfinished laundry.
Folding tables are sanitized between each order.
The laundry bags used are cleaned as well before being returned to you.
If you're interested to learn more about changes we've made due to changing times, read our COVID-19 Mitigation. While you're focusing in other areas of your life, let HappyNest's full-service laundry operation help. Do life, not laundry.
Flying High Without Laundry Loading You Down
As the National Aviation Heritage Area says, "begin your next adventure." We could not agree more. Whether you have time or the chance to visit some of the aviation sites in Ohio or want to reach the stars, don't let your laundry pull you back down.
We get it; big ideas can be put on hold for that mound of dirty clothes waiting to be cleaned. But you don't have to let it. HappyNest's pickup and drop off laundry service offers you the opportunity to forget it and jump. Take the next leap to your next adventure.
Glad you asked! HappyNest's full-service laundry operation is as easy as 1, 2, 3.
Customize your preferences.
Everyone is different, especially when it comes to laundry. That is why HappyNest offers the choices between our various detergents, softeners, dryer sheets, and bleaches.
Leave the rest to us.
HappyNest offers pickup and delivery laundry services in Ohio to keep the whole process out of your hands. So while you enjoy life, we'll take care of washing, drying, and folding your clothes before returning them to you.
Laundry Can't Wash Itself
Your preferences may change between each load, and that's okay too. You can change as often as you need to on your profile. Or, if you're a stickler for keeping everything exactly the same, that's okay too. HappyNest's laundry service in Ohio is here for you.
As said above, HappyNest offers various washing detergents depending on your needs.
For detergents, we offer Tide, Gain, All Free & Clear, or Seventh Generation. Softener options include Downy, Gain, All Free & Clear, Downy Free & Clear, or White Vinegar. Dryer sheets are also a choice with the options of Bounce, Gain, or All Free & Clear. And for bleach, options provided are Clorox, Clorox2, or OxiClean.
HappyNest offers residential laundry service for Ohio. With our variety of washing options, choose your preference. Our wash and fold laundry service will do it exactly how you like without you having to leave your house. Choose to have us pick up and drop off your laundry instead of doing it all yourself. Call about our services for Ohio at (855) 335-9274, or sign up online.
How HappyNest Works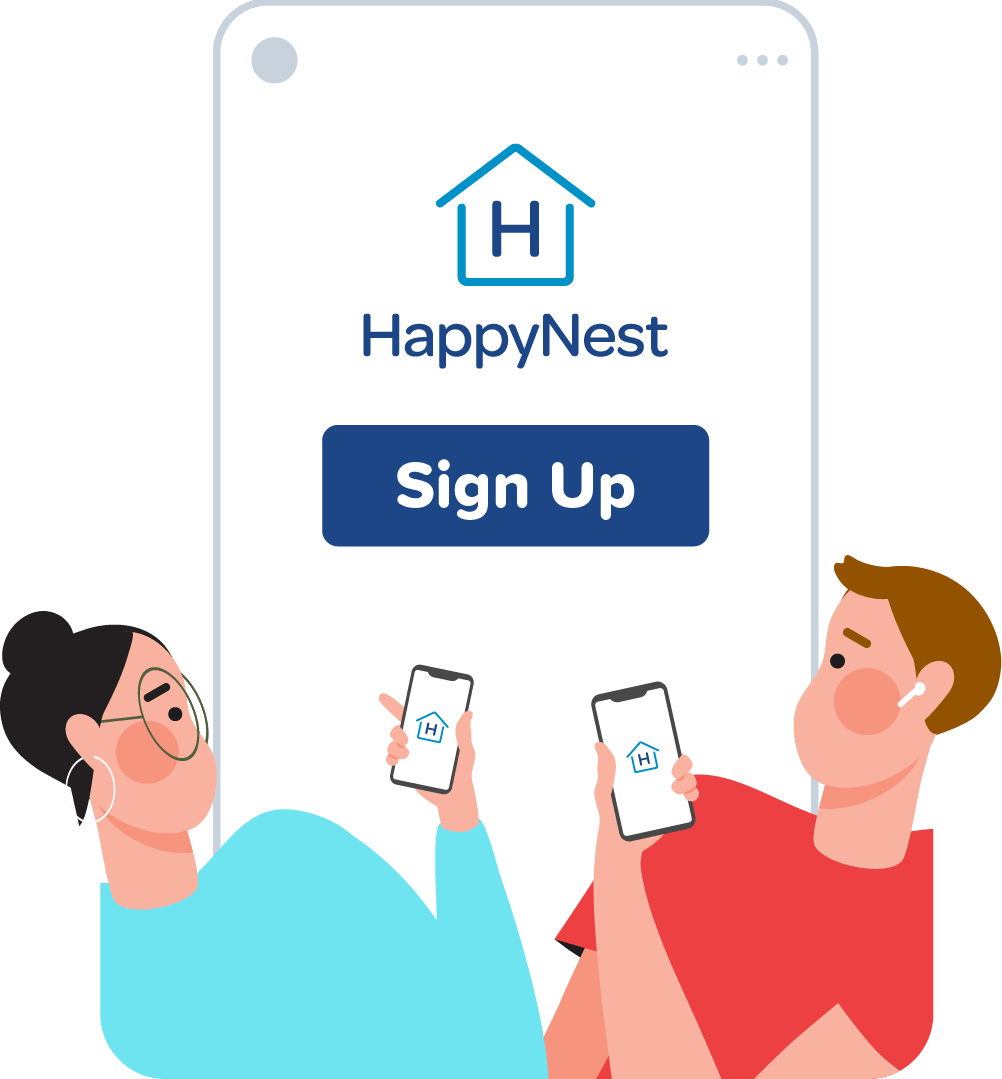 Sign Up
Download our Apple or Android app or sign up on the website and tell us how often you'd like your laundry done – weekly or by request. That's all it takes to eliminate the task of laundry from your life.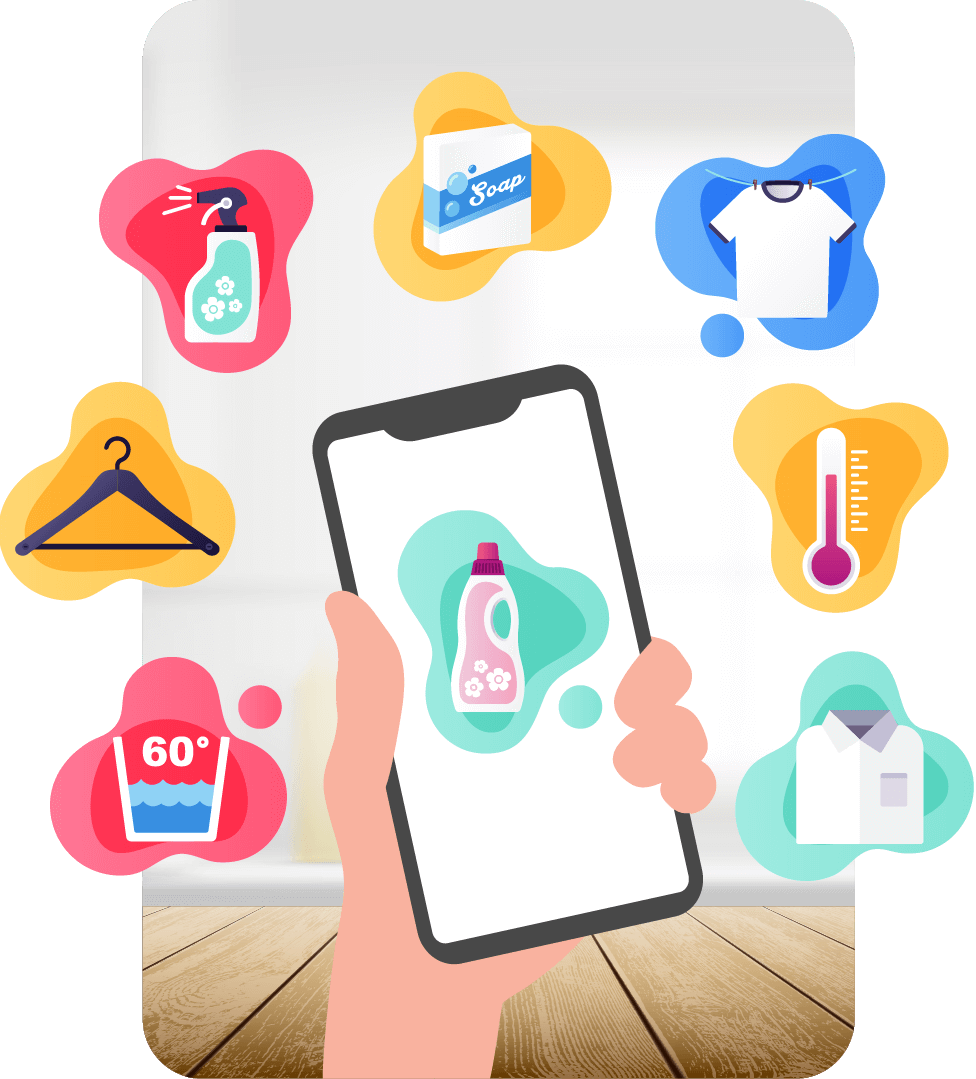 Customize
Need a soap with no perfumes? Like your socks rolled, not folded? Don't like fabric softeners? Tell us all about your laundry preferences – starting from detergent to dryer temperature. We'll get it right!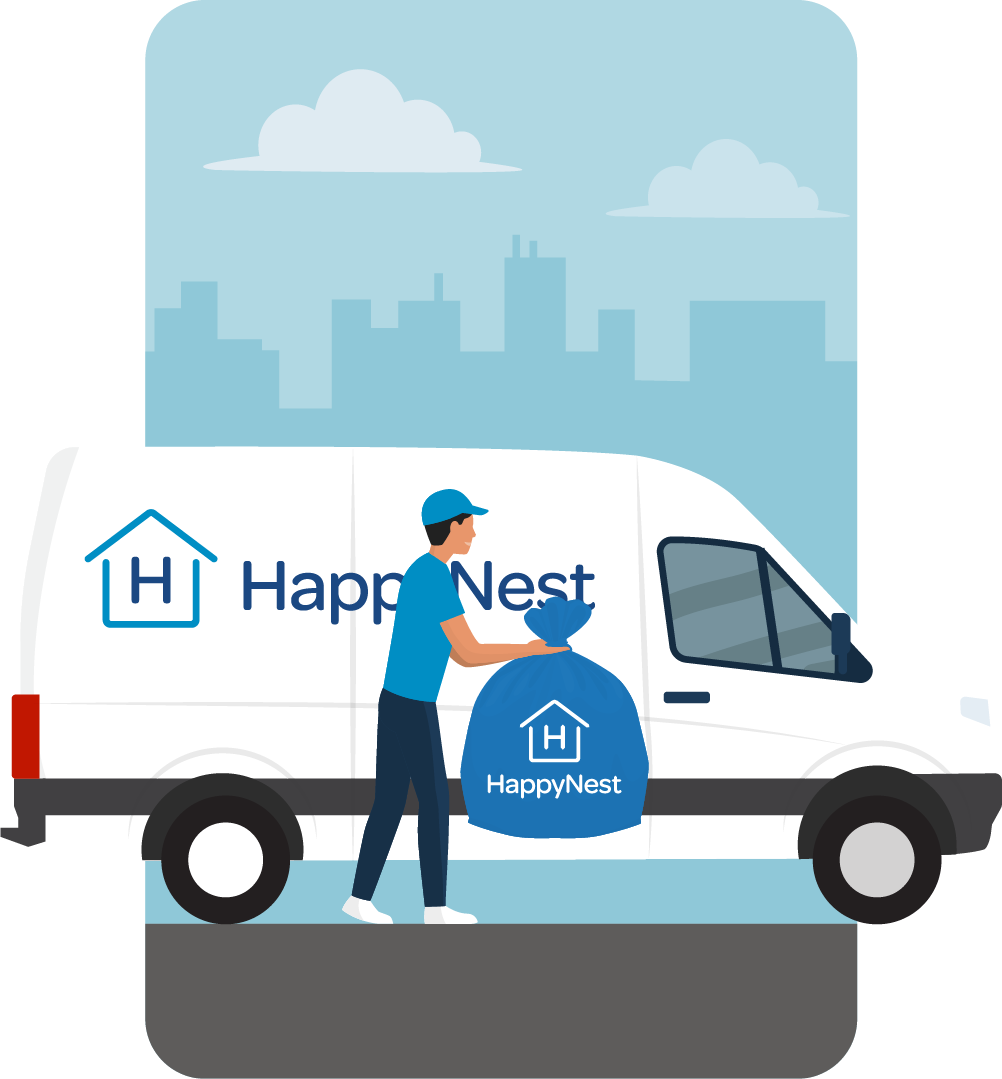 We Do The Rest!
Simply leave your clothes out in the HappyNest bag for pickup on laundry day. We'll wash, dry, fold, and return them to you the very next day!