As HappyNest launches its first Partner in Charlotte, North Carolina, you need to figure out how to take the burden of doing the day after day, week after week laundry off your extensive chore list. Let HappyNest give you the gift of time to enjoy North Carolina to the fullest.
HappyNest Makes Laundry Easy
Nobody wants to spend any free time a laundry room when all of the fun activities and beauty that North Carolina has to offer is waiting for them outside their door. Luckily, HappyNest's wash/dry/fold or hang laundry service makes the laundry cycle so easy.
To get started, all you have to do is visit our website, send us an email, or reach out via text or phone at (855) 335-9274. We promise you'll be ready to start your HappyNest experience in less than three minutes!
Next, build your dream load of laundry from our assortment of laundry products, and make sure to give us any other instructions that'll help HappyNest's laundry service give your clothes the best care possible according to your needs.
Finally, just make sure to leave your clothes out on the designated day in the big, blue HappyNest bag, and let the HappyNest laundry service take care of the rest! We'll have your clothes back to you, washed and folded, the very next day.
Get to Know HappyNest
HappyNest is easy to use. Seriously. It's as easy as these three steps:
Sign up on HappyNest's laundry service app for iOS or Android, through the website, or by texting or calling (855) 335-9274.
Enter your zip code to choose your location.
Fill out a few questions to personalize your laundry requirements, and create your HappyNest account.
HappyNest is safe. We understand that, in times like these, it can be scary to trust someone when it comes to cleaning. Read about all our safety measures in our COVID-19 Mitigation.
Not only does HappyNest provide wash and fold laundry services, but we also provide a variety of detergents to get your laundry done exactly how you like it. Whether you like it plain and simple, or with every possible topping, we have options for you.
Choose from our selection of detergents to get your clothes squeaky clean: Tide, Gain, All Free & Clear, and Seventh Generation.
We make your clothes feel soft with softeners: Downy, Gain, All Free & Clear, or White Vinegar.
Dryer sheets can be just as important in the last steps of laundry processing, so we offer a few options here as well: choose Bounce, Gain, or All Free & Clear.
And we can't forget those pesky stains, that's why we offer some options for stain-fighting power: Clorox, Clorox2, and OxiClean's bleach options to keep those whites, white.
No matter your laundry preferences, HappyNest's laundry service is here to meet your needs.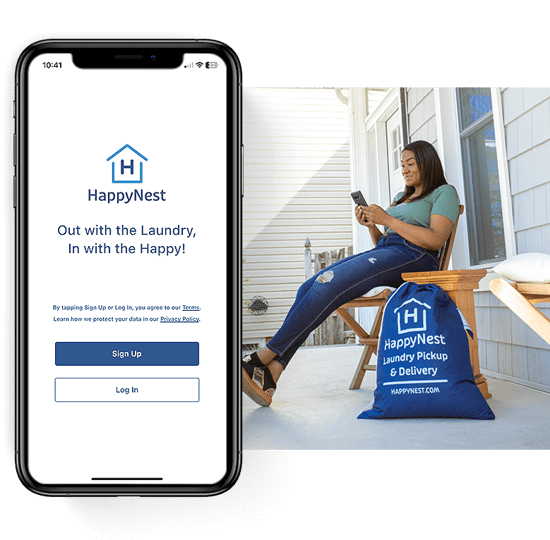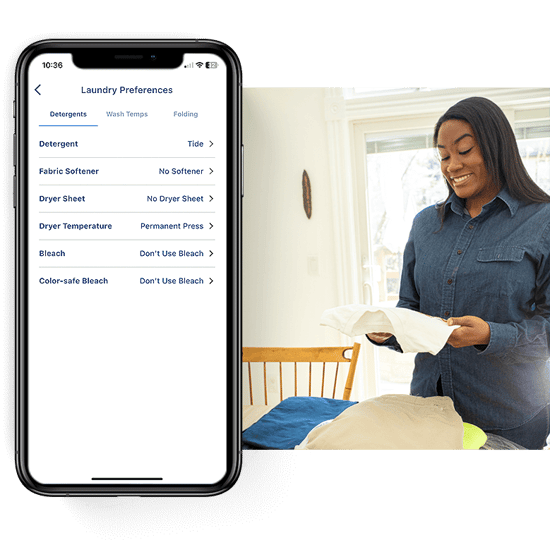 Customize Your Preferences
Choose your pickup day, select your detergent, folding preferences, and more. You can change your settings anytime!
Customize Your Preferences
Choose your pickup day, select your detergent, folding preferences, and more. You can change your settings anytime!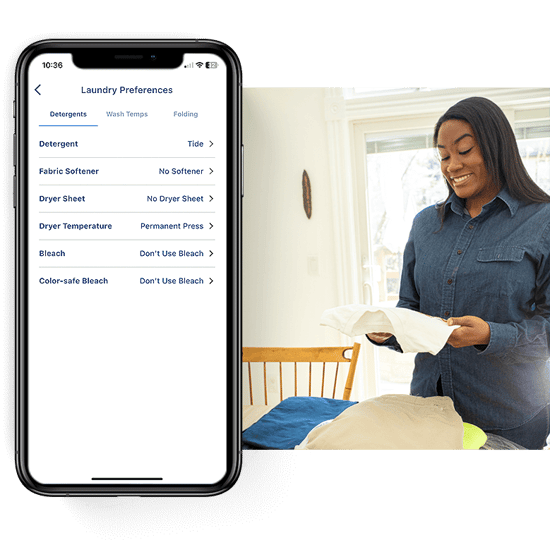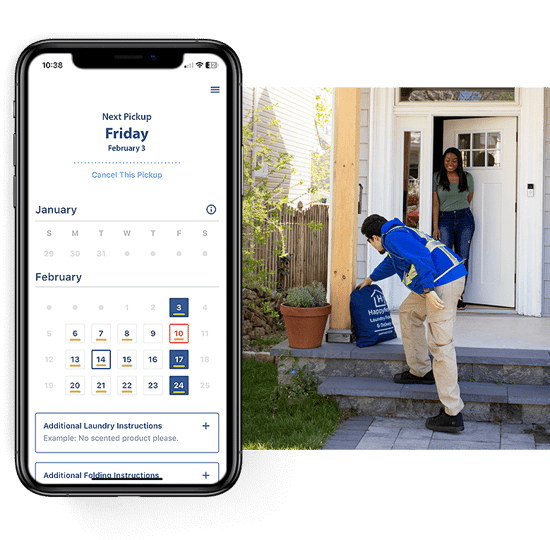 Leave Out For Pickup
We'll remind you the day before to have your laundry ready for pickup. And for good measure, we'll let you know when our driver is on the way. Your perfectly washed, fluffed, and folded clothes will be returned the next day.
Cities and Towns We Service in North Carolina
HappyNest services all of the cities and towns listed below. If you don't see your area in the list, enter your information and join our waitlist. We will notify you when service opens up in your area!
Concord
Cornelius
Davidson
Fairview
Flat Rock
Fletcher
Greensboro
Harrisburg
Mint Hill
Mooresville
Pineville
Pleasant Garden
Randleman
Saluda
Swannanoa
Weaverville