Why choose HappyNest in Arizona?
We are eco-friendly: We offer name-brand detergents as well as natural and perfume-free options. We can even use white vinegar as a fabric softener if that's your preference.
We are convenient: On laundry day, just leave your laundry outside your door. We will come pick it up and return it to you washed and folded the next day.
We are flexible: Do you want your laundry picked up on the same day every week? No problem. Maybe you are not a regular-schedule type of individual, and you rather just have your laundry picked up by request. That's fine too. Just let us know your preferences.
We are affordable: While our rates may vary slightly from town to town, we strive to keep costs low. Often, our service is not much more than doing laundry on your own. Text or call us at 855-335-9274 to find our rates near you.
Do you need someone else to do the laundry so you can finally begin doing the things you truly love? HappyNest is a pickup and delivery laundry service dedicated to the washing, the drying, and even the folding. We've got all the information you need right here so you can get going with your new favorite full-service laundry.
Download our app on the App Store or Google Play; or visit our website and schedule your pickup and drop off dates. Whether weekly, bi-weekly, or by request, HappyNest home and light commercial laundry service is here to serve Arizona residents.
Customize your laundry preferences. Choose your detergent, softener, dryer temperature, and even how you want your belongings folded or hung!
Schedule your pickup, then leave your laundry items in a HappyNest big, blue bag on the porch or near your front door. A HappyNest driver will come at the scheduled time for pickup. You'll get a text once they do the pickup.
You can expect a full laundry service and next-day delivery.
HappyNest gives Arizona residents a wide variety of options for cleaning your clothes, bedding, towels, and other items to your exact specifications.
Have specific laundry instructions? Choose from our selection of detergents to get your clothes squeaky clean: Tide, Gain, All Free & Clear, and Seventh Generation.
If you like your clothes feeling soft as grass, without the itching from pollen, we offer a variety of softeners to best suit your needs: Downy, Gain, All Free & Clear, or White Vinegar.
Dryer sheets can be just as important, so we offer a few options to choose from here as well: chosen Bounce, Gain, or All Free & Clear.
And we can't forget those pesky stains that sometimes show up, that's why we offer options for maximum stain-fighting power: Clorox, Clorox2, and OxiClean bleach options.
No matter how picky you may be with your personal or business laundry items, there's something for everyone with HappyNest's laundry service options.
Arizona is All About:
As the sixth largest and 14th most populous of the 50 states, Arizona's capital and largest city is Phoenix with Utah to the north, Colorado to the northeast, New Mexico to the east and neighboring states Nevada and California. Arizona was the 48th state and the last of the contiguous states to be admitted to the Union, achieving statehood in 1912.
Home to a diverse population, about one-quarter of the state is made up of Native American reservations that serve as the home to 27 federally recognized tribes, including the Navajo Nation, the largest in the United States with more than 300,000 citizens.
Did you know that some of Alfred Hitchcock's classic film Psycho was shot in Phoenix, as the apparent home of the main character?
Prominently featured in the lyrics of many country and western songs, it is notable resident Glen Campbell's "By the Time I Get To Phoenix" that strikes the most chords.
There's no place quite like the Grand Canyon State. Tall mountain ranges, swift rivers, grasslands, sand dunes, and cactus forests make up Arizona.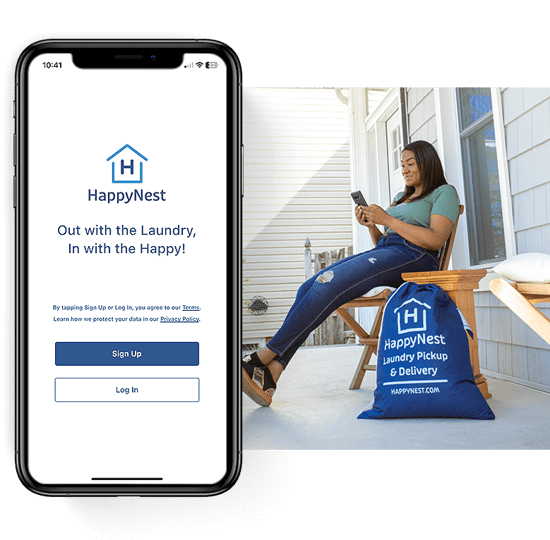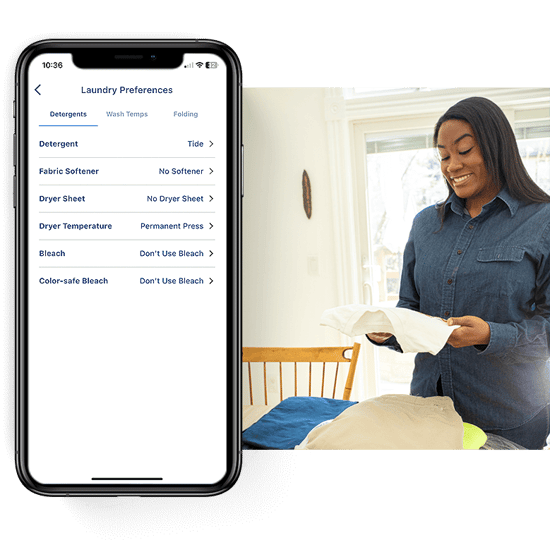 Customize Your Preferences
Choose your pickup day, select your detergent, folding preferences, and more. You can change your settings anytime!
Customize Your Preferences
Choose your pickup day, select your detergent, folding preferences, and more. You can change your settings anytime!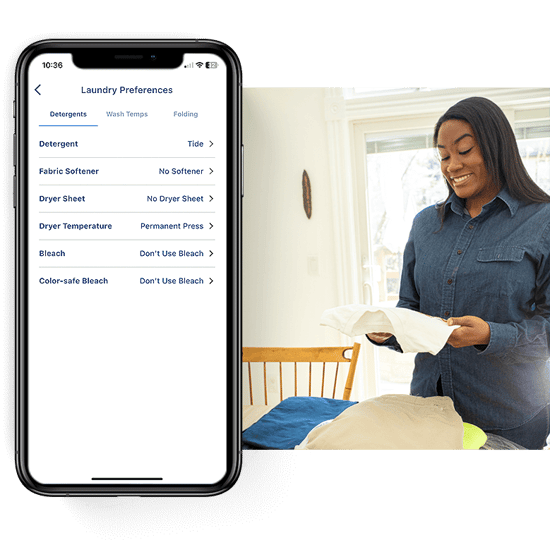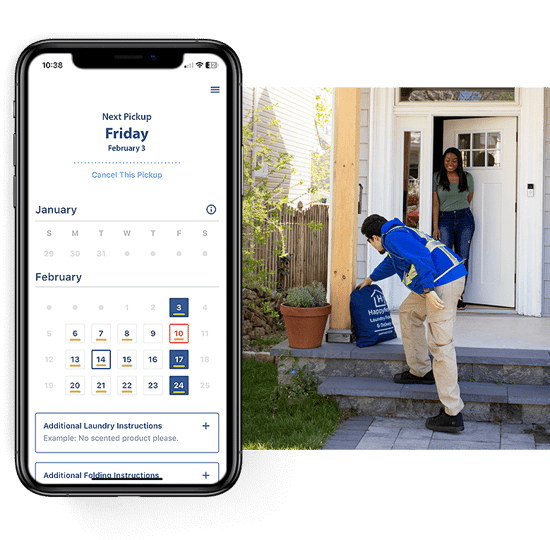 Leave Out For Pickup
We'll remind you the day before to have your laundry ready for pickup. And for good measure, we'll let you know when our driver is on the way. Your perfectly washed, fluffed, and folded clothes will be returned the next day.
Cities and Towns We Service in Arizona
HappyNest services all of the cities and towns listed below. If you don't see your area in the list, enter your information and join our waitlist. We will notify you when service opens up in your area!