Have you been thinking about things you'd like to try or places you'd like to see in your home of Massachusetts? Your weekdays are jam-packed with work calls and domestic errands. It's hard not to feel frustrated when you finally sit down on the edge of your bed, only to stare down a mountain of crumpled, dirty clothes. Do you need someone else to do the laundry so you can finally get started doing the things you love? HappyNest is a pickup and delivery laundry service dedicated to the washing, the drying, and even the folding. We've got all the information you need right here so you can get going with your new favorite full service laundry.
Download our app on the App Store or Google Play; or visit our website and schedule your pickup and drop off dates. Whether weekly or by request, HappyNest home laundry service is here to serve Massachusetts residents.
Customize your laundry preferences. Choose your detergent, softener, dryer temperature, and even how you want your belongings folded!
Schedule your pickup, then leave your dirty items in a HappyNest big, blue bag on the porch or near your front door. A HappyNest driver will come at the scheduled time for pickup.
You can expect a full laundry service and next-day delivery.
A Wash and Fold Laundry Service for Massachusetts' Picnickers
Great peace can be found in a simple picnic on the wide sandy swath of Race Point Beach, one of the Cape Cod National Seashore beaches in Provincetown, Massachusetts. (http://capecodonline.com/cape-cod-beaches/national-seashore/race-point/). Maybe you've been putting an outing off at the thought of folding all the beach towels. Luckily, HappyNest is a laundry folding service that considers the full spectrum of laundering. Do you have a particular way of folding those strappy bathing suits or those meshy cover-ups? If there's something special we need to know just log into your account and update your laundry and folding instructions. We always try our best to accommodate your laundry needs. You can lie back and watch the distant boats sail past without the burden of the post-beach clean-up. Absorb the sunshine while you can and leave the washing to HappyNest pickup and delivery laundry service.
Take a Walk Through Massachusetts' Boston Common
Do you crave a life of variety; of crowds and interesting sights? Covid-19 has made many of us worry about being in the middle of big groups. The least HappyNest can do is make sure your laundry is done in a clean and safe environment. You're keeping yourself separated from the masses, which is why HappyNest will also wash and dry our customers' laundry individually in separate machines. You can take a calming and socially distant walk through Boston Common, the central public park in downtown Boston, Massachusetts (https://www.boston.gov/parks/boston-common). With your headphones in and breeze blowing, just remember that we are following the CDC guidelines thoroughly and your belongings will be returned cleaner than ever. We have mitigation policies on a page readily available for your review if you're concerned: https://www.happynest.com/mitigation/. HappyNest laundry service only wants to ease your stresses, not cause more. Organize your next pickup, get in your exercise, and trust that your belongings are in good (and clean) hands.
Schedule Your Laundry Pickup Date Then Off to Salem, Massachusetts!
Salem, Massachusetts is the place to be as the green summer leaves crisp and darken to rich oranges and reds. This spooky town is no stranger to masks, and now you aren't either. Do you have a collection of fabric face coverings that need delicate attention? The Covid-19 virus cannot withstand the washing and drying cycle. Consequently, the simple act of laundering destroys it. We are happy to use hot water (at request as per the special instructions option in your account). We can let your fabric mask air dry so it can stay ship-shape and at its best quality to protect you and others. While our residential laundry service gets the warm water sudsy with soap, you can schedule a History & Hauntings of Salem Guided Walking Tour perfect for the visitor and the local (https://www.viator.com/tours/Salem/Hauntings-and-History-Walking-Tour/d22414-37124P1). Create your own fun in Massachusetts' scariest town during these equally scary times.
Signing up with HappyNest pickup and delivery laundry service opens up a world of opportunity and delights. When you think of the Massachusetts towns you want to visit, you should be able to get in your car and go. Don't let an impressive stack of wrinkled clothes stand between you and seeing this beautiful part of New England. Schedule your pickup time, and do life, not laundry!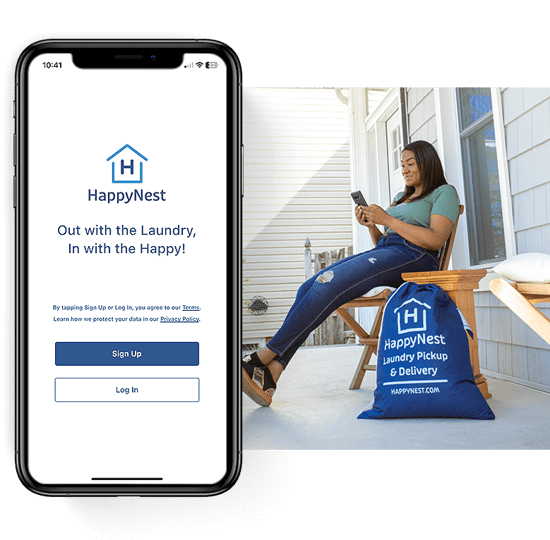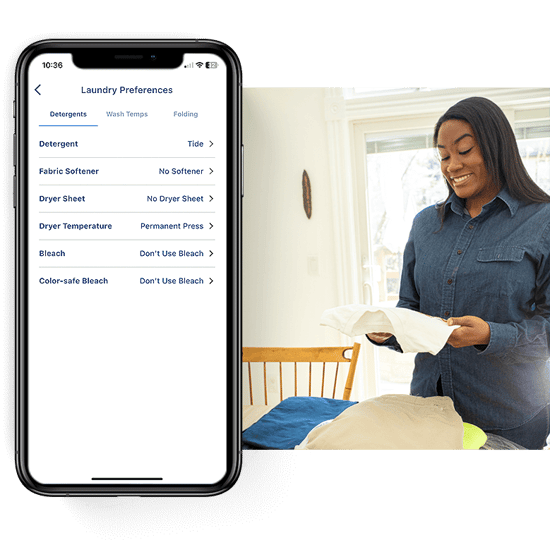 Customize Your Preferences
Choose your pickup day, select your detergent, folding preferences, and more. You can change your settings anytime!
Customize Your Preferences
Choose your pickup day, select your detergent, folding preferences, and more. You can change your settings anytime!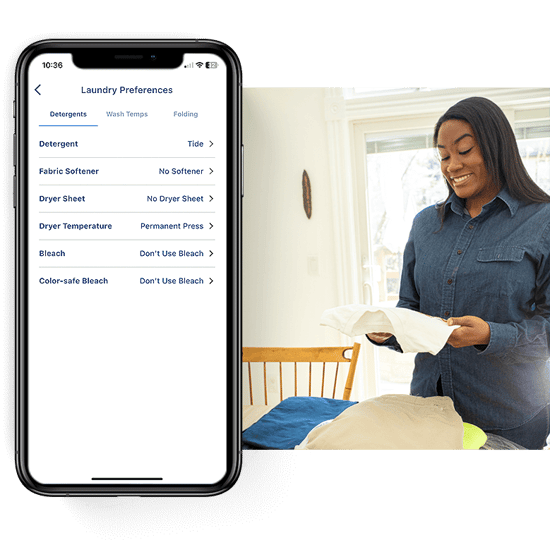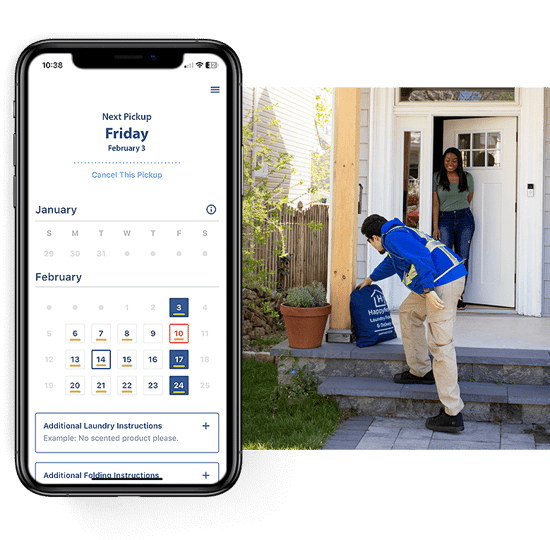 Leave Out For Pickup
We'll remind you the day before to have your laundry ready for pickup. And for good measure, we'll let you know when our driver is on the way. Your perfectly washed, fluffed, and folded clothes will be returned the next day.
Cities and Towns We Service in Massachusetts
HappyNest services all of the cities and towns listed below. If you don't see your area in the list, enter your information and join our waitlist. We will notify you when service opens up in your area!