Software Update November 29, 2021
With the November 29th update, Springboard now includes both the ability to split large manifests into two individual manifests and a new "Manifest Messaging" tool which allows admins to send messages to a contact list generated from an open manifest.
While admins have always had the option of sharing large manifests among multiple drivers, this method for managing large manifests creates issues with the predictive ETAs that are generated through the Driver App 2.0 and Notifications 2.0. Consequently, we would strongly encourage you to transition from "sharing" to "splitting."
A video tutorial on splitting manifests can be found here:
The "Manifest Messaging" tool can be accessed through the "Send Message to Customers" button that will show to admins with the correct permissions on the Drivers List once a manifest has been released to the driver. The "Manifest Messaging" tool allows admins to create and send short text and email messages to a contact list generated from a manifest's customer list.
An introductory video tutorial on "Manifest Messaging" can be found here:
Software Update September 20, 2021
On Monday September 20, 2021 we released an upgrade to Springboard. In addition to a number of bug fixes, this release also includes:
The addition of a "declined history" to the "snapshot" on the customer profile. The "Declined" number shows the total of the number or declines that a customer has had over the lifetime of their account. The intention is to provide you with a quick way to assess the customer's behavior. If the customer has any current declined invoices, they will show at the top of their profile.

The declined history is linked to the customer's billing history. Clicking on the declined number will open the customer's Billing History with the filter (new) defaulted to "All Declined Invoices". Once the Billing History is open, you can quickly toggle between the "Show All" view and the "Filter by Declined" views.
On the Billing History page, you now may see some invoices with a status of "Paid" but "Paid" displayed in red. This indicates the while the invoice is no longer declined, at one point it had been. Again, the intention here is to provide the information you need to assess the customer's behavior.

Most significantly, we have both added an additional note type (Production Notes) and made accessing customer notes from the Production Manifest easier. On the customer profile pages you will find a new section called "Production Notes." "Production Notes" are not seen by the customer and are intended only for internal communication with the laundry attendants. If, for example, the customer complained about their last laundry order being returned smelling like Tide when they requested fragrance-free, the Production Notes can be updated to inform the attendants of the customer's complaint and to encourage them to be extra careful when processing the customer's order.
So that attendants can have easy access to all customer notes, we have added a "Notes" column to the Production Manifest. If a customer's profile has special washing instructions, special folding instructions, or a production note – a green note icon will appear in the "Notes" column. Clicking on the note icon will pop open a floating window which will display all of the notes associated with the customer's account.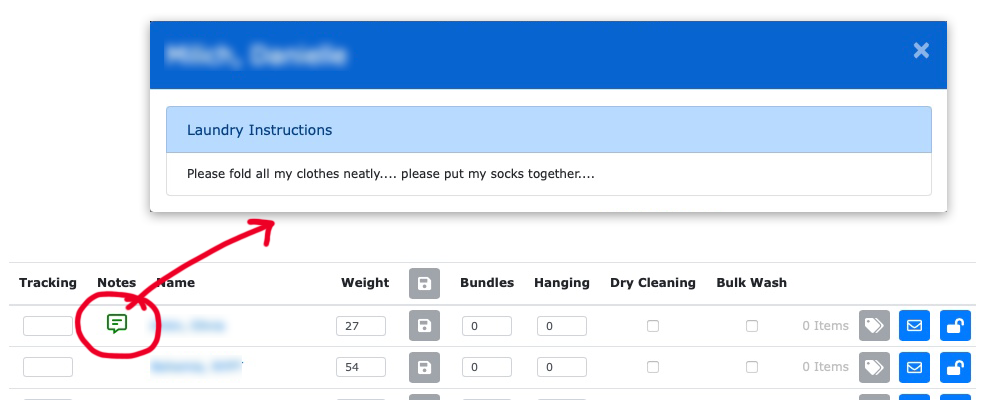 May 24th Update
On Monday, May 24th at 2 a.m. EST we will be performing a significant upgrade to the Springboard servers. With the migration to the new server, you can expect improved stability and a significant increase in speed across the Springboard platform. Because this upgrade requires the migration of, among other things, the core Springboard database, all sites will be put into Maintenance Mode during the transition. While meticulous planning has gone into ensuring that this process goes smoothly and quickly, it could require up to 2 hours of downtime. At the very latest, Springboard will be back up and all sites taken out of Maintenance Mode by 4 a.m. EST.
April 26th Update
On April 26th, 2021: Please be aware that we will be releasing an update to Springboard on Monday, April 26th at 4 a.m. Springboard will be down for approximately 15 minutes. While this update includes some bug fixes, it is primarily geared toward laying a foundation for upcoming feature releases including a completely rebuilt Drivers App as well as options for streamlining invoicing. We will be real-world testing these features in-house and will make them available for general use at the conclusion of that testing.
December 28th Update
On December 28th, 2020: We released an update to Springboard. The 12/28 update brings further enhancements to the pre-authorization tools. Admins now have the ability to add a "pad" to the estimated invoice amount that Springboard will use to pre-authorize the credit card through Authorize.net. This is a global setting (meaning the pad will be applied to all invoices automatically) and can be toggled on (or off), and the pad amount set, in the main settings panel. This update also adds the ability to batch process pre-authorizations. In addition, admins and super admins can now assign the ability to override (skip) the pre-authorization step on a per-admin basis. For example, while all Springboard users have the ability to pre-authorize credit cards during production, you can limit which users can use the "skip" function to override a pre-authorization either before pre-authorizing or after a failed pre-authorization.
December 14th Update
On December 14th, 2020: We released an update to Springboard. The primary focus of this update is enhancements to the "apply credit" functions in Springboard. So that the impact of credits on revenue can be better tracked, Springboard now allows for credits to be designated as either "marketing" or "production" credits. Marketing credits include all credits issued to customers from promo codes or referrals. A credit that has been issue to a customer to compensate them for lost or damaged items, a mistake made by the attendants, or a missed pickup or drop-off due to driver error can be tagged as a "production" credit.
When credits are "spent" during invoicing, if there are production credits on record, they will be drawn down before any marketing credits are applied to the invoice. For example, If a customer has $35 in production credits and $10 in marketing credits for a total of $45 and their invoice is for $40, the $35 in production credits will be applied to their invoice in addition to $5 in marketing credits. This would zero-out the customer's invoice and leave $5 in the marketing credit bank.
On the credits report, remaining credits are now tagged as either marketing or production credits.
November 30th Update
On November 30th, 2020: At 4 a.m. EST we released an update to Springboard. This update included a complete rebuild of the Production Manifest tools and adds the ability to pre-authorize credit cards.
For video guides of how to use the new Production Manifest and Pre-authorization tools, or to watch the webinar, click on the appropriate button below.
What does this update include?
This update includes a complete rebuild of the Production Manifests and also introduces the ability to pre-authorize customers' credit cards prior to processing their laundry.
The Production Manifest has been rebuilt from the ground up with the aim of delivering a cleaner and easier to use (but still familiar) interface with vastly improved load times. To watch an introductory video, please click here.
With this update you will also have the option to pre-authorize a customer's credit card before your attendants begin production on their order. As operators, we're all familiar with the "pain point" of processing a customer's laundry only to have their card declined during billing. With the new "pre-authorization" capability, you can limit this risk by "pinging" the customer's card to determine if they have the funds available to cover the estimated cost of their laundry order. Based on the weight entered, an estimated total is generated and sent to Authorize.net. If the customer's bank confirms that the customer's card has the necessary funds to cover the cost of processing their laundry, a "hold" will be put on the card for the requested amount. If the final invoice total does not exceed the pre-authorized amount, then payment is guaranteed. If the customer's bank declines the pre-authorization, then the customer's laundry production ticket will be locked so that your attendants will be unable to process that customer's laundry. In the event of a declined pre-authorization, the customer will be notified and prompted to update their billing information so that their laundry can be processed. An Issue Tracker ticket will also be automatically generated for Customer Service and be placed at the top of the ticket queue. Once a customer's billing information has been updated, another attempt can be made to pre-authorize their card.
Because we always want to be able to override a failed pre-authorization, there is the option to skip pre-authorization on a case by case basis.
If a customer's card fails pre-authorization and you elect to return to the customer their not processed laundry, you still have ability to print labels for that order. Also, when building the return manifest, any orders that failed pre-authorization and are being returned to customers "as-is" will be flagged in red to alert the drivers.
Pre-authorization is an optional feature. To take advantage of it, any admin with permissions to access the Settings control panel can select the "Pre-authorization of Credit Cards" checkbox. Doing so will provide access to the pre-authorization functions from the Production Manifest.
To watch an introductory video, click here.