Isn't Laundry Such a Chore?
Let's face it: running a load of laundry is nobody's idea of a good time, so why would you want to spend any more time washing and folding your family's never-ending stream of clothes than you have to?
So why not give HappyNest's laundry service a try? It's affordable, convenient, and just what you need to get out of the laundry room for good!
Why choose HappyNest in Louisiana?
We are eco-friendly: We offer name-brand detergents as well as natural and perfume-free options. We can even use white vinegar as a fabric softener if that's your preference.
We are convenient: On laundry day, just leave your laundry outside your door. We will come pick it up and return it to you washed and folded the next day.
We are flexible: Do you want your laundry picked up on the same day every week? No problem. Maybe you are not a regular-schedule type of individual, and you rather just have your laundry picked up by request. That's fine too. Just let us know your preferences.
We are affordable: While our rates may vary slightly from town to town, we strive to keep costs low. Often, our service is not much more than doing laundry on your own. Text or call us at 855-335-9274 to find our rates near you.
Do you need someone else to do the laundry so you can finally begin doing the things you truly love? HappyNest is a pickup and delivery laundry service dedicated to the washing, the drying, and even the folding. We've got all the information you need right here so you can get going with your new favorite full-service laundry.
Download our app on the App Store or Google Play; or visit our website and schedule your pickup and drop off dates. Whether weekly, bi-weekly, or by request, HappyNest home and light commercial laundry service is here to serve Louisiana residents.
Customize your laundry preferences. Choose your detergent, softener, dryer temperature, and even how you want your belongings folded or hung!
Schedule your pickup, then leave your laundry items in a HappyNest big, blue bag on the porch or near your front door. A HappyNest driver will come at the scheduled time for pickup. You'll get a text once they do the pickup.
You can expect a full laundry service and next-day delivery.
Louisiana, Give HappyNest a Try Today!
At the end of the day, nobody wants to spend more time doing laundry than absolutely necessary. You've got so much more important things going on, so let HappyNest's wash and fold laundry service take the laundry off of your plate. Do life, not laundry, with HappyNest – you'll be glad that you did!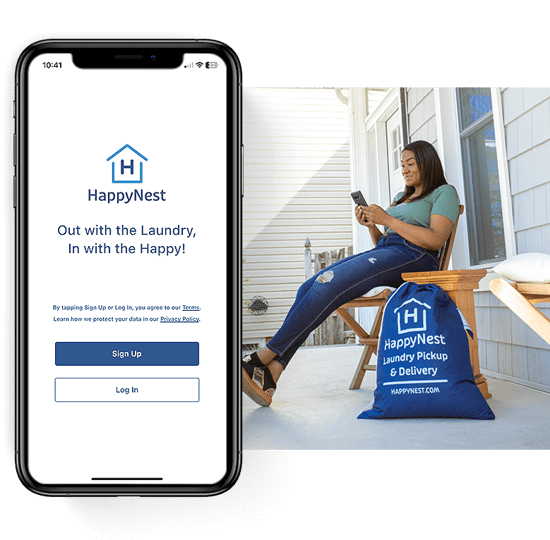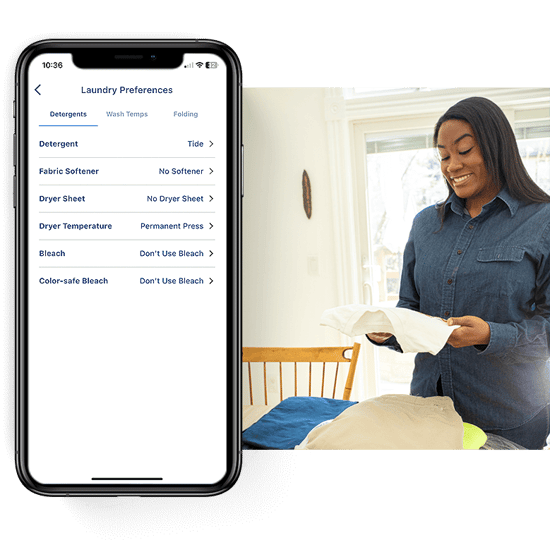 Customize Your Preferences
Choose your pickup day, select your detergent, folding preferences, and more. You can change your settings anytime!
Customize Your Preferences
Choose your pickup day, select your detergent, folding preferences, and more. You can change your settings anytime!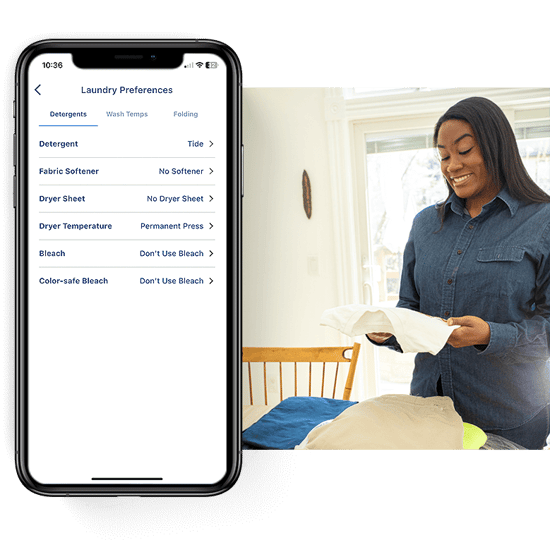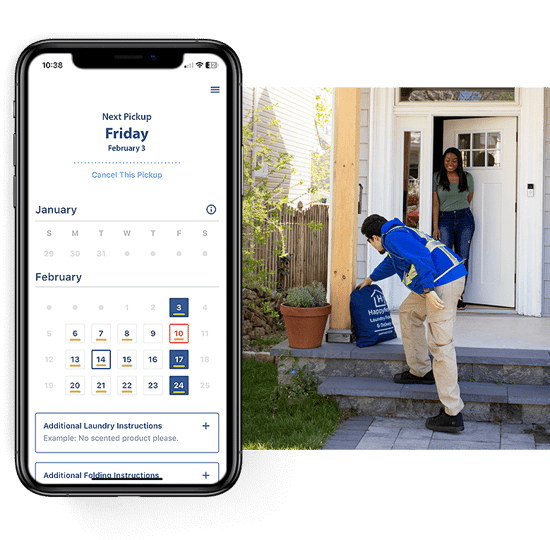 Leave Out For Pickup
We'll remind you the day before to have your laundry ready for pickup. And for good measure, we'll let you know when our driver is on the way. Your perfectly washed, fluffed, and folded clothes will be returned the next day.
Cities and Towns We Service in Louisiana
HappyNest services all of the cities and towns listed below. If you don't see your area in the list, enter your information and join our waitlist. We will notify you when service opens up in your area!